The Methodist ecclesiastical trial of Rev. Frank Schaefer has dominated the weekly news cycle. Rev. Schaefer has become the latest icon of resistance to oppressive Methodist LGBT policies after he was convicted of the heinous crime of presiding at the marriage of his gay son.  Several weeks earlier, retired Methodist Bishop Melvin Talbert was the center of the news for presiding at a gay marriage in Alabama. For that, the Methodist Council of Bishops has decreed that ecclesiastical charges be brought against one of their own. I heard Bishop Talbert predict his own actions during a rousing speech outside the convention hall in Tampa that hosted the 2012 Methodist General Conference. "Biblical obedience demands ecclesiastical disobedience" he said then to a roused-up audience still smarting from legislative defeat the day before. Meanwhile, ecclesiastical charges are pending against esteemed Methodist ethicist and former dean of Yale Divinity School, Rev. Thomas Ogletree, for officiating at the legal marriage of his gay son. These three martyrs are the latest in a long line of straight allies who have incurred official Methodist wrath for daring to suggest that the emperor wears no clothes.
The first of these was Bishop Melvin Wheatley of Colorado. Bishop Wheatley was already a veteran of edgy social justice actions when he refused to assent to an onerous episcopal message (a collective statement of all Methodist bishops) at the 1980 General Conference. When the episcopal address parroted Methodist homophobia, "homosexuality is incompatible with Christian teaching," Wheatley responded, "I will not accept [this statement]. It states as an absolute fact what is an insufficiently documented opinion: that gay persons can't be Christians."
Earlier, he had moved into the home of Japanese Americans sent to an internment camp during WWII in order to protect the vacant home from vandals, and he also exchanged pulpits for a month with a black minister of a black congregation in Los Angeles in 1964 as racial unrest simmered, ready to boil over.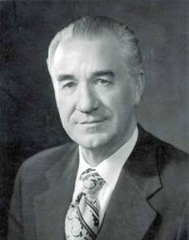 After publicly voicing objection to the 1980 episcopal address, Bishop Wheatley then acted on his own words. In 1982, he ordained an open lesbian to the ministry of word and sacrament. To the best of my knowledge, Joanne Carlson Brown remains the only out gay or lesbian ordained as Methodist clergy because the 1984 General Conference reacted to her ordination by expressly prohibiting ordination of "self avowed practicing homosexuals," and this policy remains in effect today. Of course, there are countless gay or lesbian Methodist clergy, but most are closeted and none were out at the time of their ordination.
The LGBT activism of Bishop Wheatley wasn't finished. That same year of 1982, a gay youth pastor was outed and lost his position with a Denver area church. Bishop Wheatley then appointed Julian Rush to an inner city congregation. Though the pay was miniscule, Bishop Wheatley attempted to preserve the clerical credentials of Rush. A Methodist pastor from the south attempted to bring ecclesiastical charges against Wheatley for this appointment, and Wheatley faced sharp questioning at a hearing. He did not knuckle under, and he pointedly told the panel, "Homosexuality is a mysterious gift of God's grace." Charges were dropped.
A significant component of Rush's youth ministry was as lyricist, composer, and director of religious musical drama, and his youth group often went "on the road" to perform Rush's creations.
Here's a sample:
Being down is like down on the ground
With nobody, no place to go;
When the big creatures push you around,
And they make you feel … Oh, I don't know,
It's a feeling that's more like a pain in your heart,
And you feel like … you feel like … a worm.
Now an ant is an ant
And a worm is a worm
But an ant has to crawl
And a worm has to squirm,
So an ant shouldn't bother
Befriending a worm
Since a worm cannot crawl
And an ant cannot squirm
We're different and different we'll stay,
It's just God's will.
It's just God's way.
From The Resurrection Thing by Julian Rush
This is the twelfth installment in the series Cast of characters countdown. I will continue to post biographical notes about the iconic pilgrims and prophets on the road to full inclusion who are featured prominently in my soon-to-be-released book, Queer Clergy.
Here's the list of prior posts:
1968 Troy Perry (founder of the MCC)
1970 Robert Mary Clement (gay priest who marched in the first Gay Pride parade)
1972 William Johnson (first out gay man to be ordained by a traditional denomination)
1977 Ellen Marie Barrett (first out lesbian ordained to the Episcopal priesthood)
1974 James Siefkes (Lutheran pastor behind the formation of Lutherans Concerned)
1974 David Bailey Sindt (founder of More Light Presbyterians)
1975 Steve Webster (organized the first gathering of gay Methodists)
1975 Dr. Louie Clay (founder of Episcopal Integrity)
1976 Chris Glaser (longtime Presbyterian activist)
1978 Loey Powell (early UCC lesbian pastor and activist)
1980 Mark Bowman (founder and leader of RMN and editor of Open Hands Magazine)