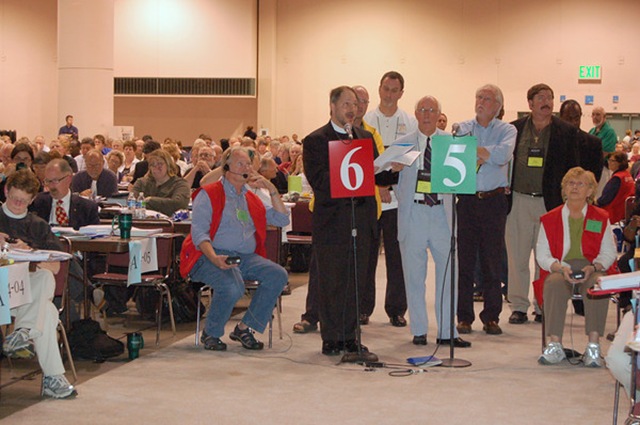 For the past few months, Minnesota Public Radio (MPR), through its Public Insight Network and Speaking of Faith project, has been soliciting feedback from ELCA Lutherans regarding the gay-friendly policy changes resulting from the Churchwide assembly one year ago (CWA09).  Many of the responses were published recently in an article entitled A church divided, together.
The responses run the gamut of human emotions and of church political views. 
A church organist expressed depression at being forced, for reasons of income, to remain employed with an ELCA congregation despite his unyielding conviction that the ELCA had devalued the Bible:
I have had a long, depressing period of very serious soul-searching, and haven't the slightest doubt about my convictions.

I feel as though I'll be working in this congregation until my retirement, but that it will no longer be "my church". My offerings are all now going elsewhere, to ministries where the truth of the Bible is valued.
Another pair of congregants, husband and wife, with a long history in their small town congregation, feel the strain on their social relationships because they chose to leave and attend a different congregation that has severed ties with the ELCA:
Their social network centered around the church, and now their friendships are suffering. "We have a lot of really good friends that are members of that congregation and we still see them socially. But it certainly has put a strain on our relationship. It's not easy to make that kind of a break," he says.
A congregant from Arizona said the heavy-handed and questionable tactics of the anti-ELCA faction caused him to become a strong supporter of the ELCA, calling the rabble rousing of the dissidents "the worst display of Christian disharmony I have ever witnessed," and he deeply resented that:
We lost a beautiful church and campus many of our members had worked hard and long to establish. The legal methods our anti-ELCA group used were devious and too easy for them to destroy our former church. Church members should have the right to disagree but it should not be so easily possible for them to destroy a church.
Perhaps the most eloquent lament over the consequences of fear and mistrust came from a gay man from rural Minnesota whose father was pastor of the local ELCA congregation, fired for speaking on behalf of his son and the ELCA revised policy.  At first, the young man was overjoyed at the decisions of CWA09:
I was never prouder. I was so excited. Thrilled. Giddy with the Holy Spirit. Yes, this was my church! Yes! Yes! Yes! This is the church my Dad preached in every Sunday. This was the church I joined with my Mom and the choir, filling it with song. This was true fellowship. This was love. Loving your neighbor as you love yourself. This is God's Love. This is why Jesus died on the cross. He died for me. So that I could be part of this wonderful family.
But then, the fear-mongering and ostracizing began:
I hear talk of false prophets and evilness and their eyes turn toward me. Me. Me?!

Wow. This is not right. This is not right at all. I must have gotten off at the wrong stop. Made a wrong turn. Crossed the wrong road. Maybe I'm lost in a dream that went south. Way south. The eyes on me hurt. The judgment hurts my very soul. Teenaged boys stare at me as if I were possessed. Young women avert their eyes. My Dad is sneered at. My Mom cries.
Yet, the young man's hope is unbowed:
No, I didn't take a wrong turn. My Dad is still my Dad. Wise and with God. Always with God. My Mom still loves her choir and her bells and her Bible. The Bible is the very same one I read growing up. And I know I'm not that false prophet people talk about. God knows I'm not that false prophet. I know the ELCA was right with God when the resolutions passed this past August. They did it with prayer. They did it with care. The Holy Spirit was with them as it was with me… then and now.

I know Jesus died for me. I know he rises again and is in my heart and soul.

As for my church? Fear and ignorance can be a deadly work. Thick and messy. But I'm on a mission. God's mission.

I will find my church. I think I know where it is. I hope and pray my church is in Hawley, Minnesota. Right where it's been for well over a hundred years. The foundation appears as strong as it ever was…with God. Working with God's people.
I am convinced that this strife will pass, and while we grieve the loss of those who feel compelled to depart, we who are the ELCA shall emerge, smaller perhaps, but stronger and more committed to the love of Christ and an inclusive church that lives that love.  I concur in the comments of the husband and father from St. Louis:
I have discovered that I feel strongly about oppression in all its forms.

I believe that although the ELCA may have lost some members because of this vote, it is because we have chosen to be more open and welcoming, less fear-mongering, and truer to the Gospel of Jesus Christ.

That can only be a good thing."
And, finally, I offer the summation of the woman from Woodbury, Minnesota, a straight ally, who felt ostracized by her conservative congregation before finding a comfortable home in a more inclusive setting:
… in the process I have made many new Christian friends. I also connected with some who had also transferred from other churches for the same reason. Finally, I felt understood.

I wish this transition had been easier for the ELCA, but the difficulties of my journey, which pale in comparison to the journeys of those more personally affected, have enriched my life.