Before my wife and I head out to spend Thanksgiving with our three adult children (and son-in-law and granddaughter), I'll note the passing of a family anniversary.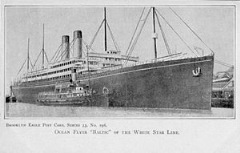 In April, 1912, the RMS Titanic of the White Star Line struck an iceberg and sank.  Seven months later, the RMS Baltic, a sister ship in the White Star Line, departed Liverpool bound for New York City.  Like her younger sister, the Baltic had once been the largest ship in the world.  Among many other Scandinavians on board, a pair of Swedish brothers, eighteen-year-old Olaf and his older brother Jens, had worked their way to Liverpool to seek their fortune in the New World.  They left their parents and other siblings behind in southern Sweden.
After passing through Ellis Island on November 12, 1912—a century ago–the brothers sought an uncle in the Hartford, Ct., area who had come to America earlier.  Olaf took the name Lofquist.  Soon, Jens would return to the homeland, but Olaf stubbornly remained.  When WWI intervened, Olaf served in the American army before settling in Minnesota where many Swedish communities thrived.  In 1925, he married Hilma of Upsala, Minnesota, the daughter of Wilhelm and Adelina, Swedish immigrants a generation earlier.
For awhile, Olaf and Hilma lived in Southwestern Minnesota near Redwood Falls, where Olaf and a partner operated a face-brick factory.  In 1929, Marilyn was born, the third daughter of Olaf and Hilma.  Marilyn was my mother.  Around 1930, Olaf received a letter from his sister in Sweden.  Their mother had died.  In response, Olaf wrote a poignant letter that is now a family treasure.
Olaf and Hilma would birth three more daughters before tragedy struck.  With the depression, the brick factory closed, and Olaf became a game warden, and the family moved to the woodlands of northern Minnesota.  In January, 1936, Olaf was a passenger in a car driven by another game warden as they headed to court in Aitkin, Minnesota, to testify in a trial of poachers they had arrested.  The car skidded on ice into the path of a train, and Olaf was killed.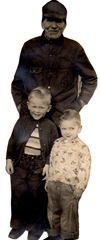 Hilma's brother picked up Hilma and her daughters, and they returned to the family farm near Upsala, but soon the farm would be lost to depression-era foreclosure.  Using insurance proceeds from Olaf's death, Hilma bought a house in town, and that was where she raised her daughters, along with her father Wilhelm who had lost the farm and who became a surrogate father for my mother and her sisters.  Years later, I lived in that house for awhile.  This is a picture of great-grandfather Wilhelm with my brother and me standing outside the Upsala café called "Hilma's Eat Shop."
In 1976, my mom and my dad spent six weeks in Sweden, visiting Holmen and Lofquist relatives.  Mom discovered Olaf's living siblings and their children—her aunts and uncles and first cousins.  The circle was closed.  Since then, many of our Swedish kin have visited us in the U.S.–some three or four times.  Our two daughters, Karin and Greta, bear the names of two of mom's cousins that she met in Sweden.  Our son, Haldan Robert Lofquist Holmen, keeps Olaf's adopted last name alive.
Last Sunday, my sister Sue arranged for Skype sessions with many of the Swedes to remember the 100th anniversary of Olaf's journey.  Though he never returned and never again saw his parents and siblings, he would be pleased to know that the circle is unbroken.