Yesterday was the thirty-fifth anniversary of the "irregular" ordination of the Philadelphia Eleven, a group of Episcopal women who broke the gender barrier and became priests.  Thanks to Susan Russell who sarcastically reminds us of that earth shattering day that threatened to "Destroy Western Civilization as we Know it."
Russell's blog post retells the events of that day and that time, and she recalls the names of the eleven brave women.  One on that list is Alla Bozarth, whose memoir is entitled Womanpriest, a Personal Odyssey.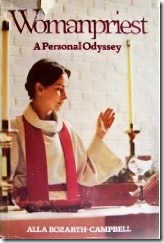 "[T]he seeds of Christian feminism were planted in my own soul," Bozarth writes, "by my Christian urban education in the politics of racism." 
Bozarth reminds us how the torch is passed from one oppressed group seeking justice to the next, a theme that Russell also touches upon in her blog post.   Russell analogizes to the LGBT breakthroughs (gay marriage, gay clergy) at the recent Episcopal General Convention. 
Bozarth continues,
I [had] heard Christ calling me to lay claim on the dignity that is mine as a human being created in the image of God, female … I [had learned] to expand my vision of God, to recognize that God is more inclusive than any human idea of deity has ever been.
But then she encountered a powerful, angry man, in the person of the Dean of her seminary: "we were greeted with indignation gradually blooming into ripened rage." Later, she was frustrated by the failure of resolutions to authorize the ordination of women at the General Conventions of 1970 and 1973, even though majorities at both assemblies voted in favor of the resolutions, but procedures required a supra-majority.
I began to question the inconsistencies between the Church's teaching and practice with regard to women.  I perceived that the Church which had taught me to believe in my human dignity had itself denied me that dignity…

I began to understand that I was unacceptable as a woman by the very Church that had taught me to celebrate my womanhood … Eventually, anger subsided into heartache and deep loneliness.  I had no thought of leaving the Church; I felt that it had already left me.  The denial of my calling to the priesthood was the denial of me as a child of God.
Defying convention and The Conventions, the Philadelphia Eleven, along with a few good men, forced the issue.  "What the Episcopal Church needed was a fait accompli.  God was soon to provide."
That historic day began like any other summer day in Philadelphia.  It was beastly hot and humid when we met in the vesting room of the Church of the Advocate at ten in the morning.  The eleven of us were vested in appropriate garb for the occasion—white albs and red stoles worn over one shoulder in diaconal style…

As we stood behind the sanctuary with the other ordinands and our priest and lay presenters, we heard spontaneous laughter and then applause coming from inside the church.  The sound was our first clue that there was a mighty and joyous throng on the other side to meet us and celebrate with us.
A black man, Dr. Charles Willie, a Harvard professor, offered the sermon in ringing, soaring tones reminiscent of the finest civil rights oratory of Dr. Martin Luther King.  Earlier, Dr. Willie had offered a sermon in Syracuse, in response to the failure of the Conventions to endorse women's ordination, in which he said:
And so it is meet and right that a bishop who believes that in Christ there is neither Greek nor Jew, male nor female, ought to ordain any … person who is qualified for the Holy Orders.  A bishop who, on his own authority, ordains a woman deacon to the priesthood will be vilified, and talked about, but probably not crucified.  Such a bishop would be following the path of the Suffering Servant, which is the path Jesus followed.  It requires both courage and humility to disobey an unjust law. 

The church is in need of such a bishop today.
Not one, but three bishops answered the call, and they performed the rite of ordination on July 29, 1974.  Soon thereafter, the Church officially changed its policies, and today the Presiding Bishop of the Episcopal Church is the The Most Rev. Dr. Katharine Jefferts Schori.
Bozarth later penned the following poem:
Talitha Cumi  Young woman, I say to you, Arise." – Luke 8:54
Do not send me, O God, for I am only a woman and do not know what to say.
Do not say "I am only a woman."  Rise up a New Creation and take the name
I Am.
Am I a stone that my body should be turned to bread?  Am I a little one whom others should not offend?  Am I not dumb and immovable and worse than dead?
You are being and motion, fire in the mountain, storm in the sea-deep, vermillion sky-gilding sun.  Rise up a New Creation and take the name
I Am.
Am I a devil, a danger, a soul-dagger-drudge, a babe, a hag, a desert, a plague?
You are a woman a human a person a prophet a sister a creature an icon-breaker/re-maker a judgment a vision a life.
Rise up a New Creation and take the name
I Am.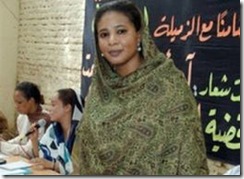 In closing, I ask all to remember the brave young Sudanese woman, Lubna Hussein, who has chosen to forsake the UN immunity offered her and to willingly stand trial for wearing trousers in public in violation of the country's strict Islamic laws.  She showed up for trial wearing the same outfit, and several of her supporters also wore pants to the hearing. 
She faces forty lashes if convicted, and the verdict was postponed until next week.