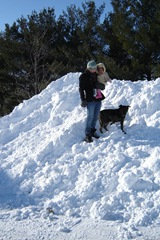 Northfield and the greater metro area of Minnesota are extremely snowy this year … apparently the snowiest since they began keeping records, and more snow is on the way next week.  Our cul de sac is shrinking as the snowbanks shoved to the edge by snow plows are over ten feet high and encroaching onto the roadway.  This photo of daughter Karin, holding our granddaughter (Karin's niece) was taken before the latest dump of six inches.  Here's a link to Karin's own blog post with wood smoke, wintry remembrances.
We attended the last of three candlelight services at our congregation at Bethel Lutheran last evening.  The music ministry at Bethel is always spectacular with unbelievable talent within our congregation.  Last evening, Anton Armstrong, the conductor of the world renowned college choir at St Olaf and Bethel member, offered an a capella solo rendition of "Sweet Little Jesus Boy", St Olaf choir soprano and Bethel member Rachel Dahlen offered several solos—as part of a women's ensemble and also to cello accompaniment, and harpist Rachel Miessler offered harp preludes as well as a solo offering of "Silent Night" between Scripture readings.  What is amazing is that different soloists and ensembles, including the full Bethel choir, provided music at the earlier two services.
On Thursday morning at the regular Bethel Men's group, we shared personal Christmas stories and family traditions.  For a group that is mostly Scandinavian, there were a variety of traditional family meals featuring dishes, besides Lutefisk, that were unknown to others (suet pudding??).  Retired St Olaf baseball coach Jim Dimick remembered his Christmas away from home in the military, pulling guard duty late on Christmas eve, but the far off strains of "Silent Night" from a nearby chapel eased his homesickness and resulted in a a transcendent moment when he felt the strong presence of God.  Reminds me of one of my favorite definitions of divinity:  "God is what's there when there's nothing else."  Former Northfield High School choir director Wayne Kivell led the men in a harmonized closing of "Silent Night".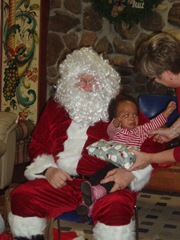 A week ago, thirty-four Pearsons (my wife's family) gathered at Green Lake Bible Camp in Western Minnesota.  Brother-in-law Pastor Keith Pearson (Hector, Minnesota) is on the Green Lake Camp board of directors, and he made the arrangements.  The photo is yours truly playing the role of Santa Claus, but my granddaughter Awashima wasn't real pleased.
Here are a few other Lutheran themed Christmas notes.
Blogger Jim Kline apparently left an Illinois congregation earlier this year when the congregation voted to exit the ELCA.  Jim found another ELCA congregation, which he joined on Reformation Sunday, and he reported on his own Christmas Eve candlelight service experience:
As the late afternoon service began, I noted that the light through the windows was slowly waning. As we progressed through the service, the familiar carols and prayers brought a sense of closure to me, culminating with the incredibly moving experience of the congregation singing "Silent Night" to the glow of our individual candles. The familiarity of this ritual, accompanied by communion, brought a sense of peace as I look back on the changes in my religious life during the past year.
Earlier this fall, I attended the Fond du Lac Episcopal Diocese annual convention where I met many new Episcopal friends including Bishop Russell Jacobus.  Last evening, an ecumenical candlelight service was offered at St. Paul's Episcopal Cathedral in Fond du Lac.  Bishop Jacobus presided over the Eucharist and the Rev James Justman, the local Lutheran Bishop (East Central Wisconsin ELCA Synod), offered the Christmas eve sermon.  A combined choir from the host Episcopal parish, a local ELCA congregation, and the choir from Community United Methodist Church offered a choral concert just prior to the Eucharist service.
Merry Christmas to all and God bless us, every one.