Regular followers of this blog know that I haven't posted much lately, and that's because I have been on the road promoting my novel, A Wretched Man.  Most recently, I spent four days with the Wisconsin Annual Conference of the United Methodists (UMC) in La Crosse.  I managed to sell a goodly number of books and network with numerous congregations and organizations that may use my book for an adult forum or book club discussion.  The study guide that I prepared as a pdf document proved to be quite popular.
The trip to La Crosse had an unintended benefit: my exhibitor's booth was placed next to Kairos CoMotion, an LGBT advocacy group within the Wisconsin UMC, and I had plenty of time to visit with Jim and Steve, a gay couple who have been together for many years and who were married in Toronto four years ago.  Steve has long been an LGBT leader and spokesman  within the Wisconsin UMC following his rejection for admission to a UMC seminary because he was gay.  At the conclusion of the convention, I accompanied Jim and Steve to a meeting and communion service for the Kairos CoMotion supporters.  I hope to post more about this group and the status of LGBT issues within the Wisconsin UMC later.
Switching from past book-related appearances to future ones, I note that in yesterday's Minneapolis Star Tribune newspaper, I was lumped together with a couple of heavy hitters of progressive Catholicism under the header "Controversial Roman Catholic speakers are coming to Twin Cities."
First on the scene is author Obie Holmen, who will be reading from his new book, "A Wretched Man," Thursday at the House of the Beloved Disciple, 4001 38th Av. S., Minneapolis. The reading will be preceded by a 7 p.m. "mass of celebration for our LGBT brothers and sisters."
I must smile at the article headline since I am not Roman Catholic nor do I think my support for the majority position of the ELCA on this blog qualifies me as "controversial".  But any press is good press, as they say, and to be linked with luminaries of Roman Catholic progressive thought such as British theologian James Alison and feminist theologian Rosemary Radford Ruether is flattering.
Early in July, the Presbyterian Church USA (PCUSA) will hold its national, General Assembly in Minneapolis.  Cokesbury functions as the official booksellers for the Presbyterians, and their bookstore will offer my book for sale during the weeklong Presbyterian assembly that promises up to 8,000 attendees.  On Monday, July 5th,  at 2:30 pm, I will be present in the Cokesbury bookstore at the assembly to autograph copies of the novel.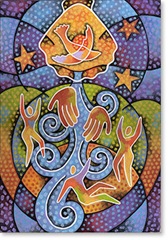 Finally, Lutherans Concerned North America (the ELCA gay advocacy group) will hold its biennial convention in Minneapolis beginning July 7th.  The theme of the gathering will be Let Justice Roll Down Like Waters.  On Saturday morning, July 10th at 8:30 am, I will present a workshop entitled "Paul the Apostle–History's Greatest Homophobe?"  The LCNA convention will close with a celebration dinner back at the Minneapolis Convention Center (after the PCUSA clears out) to remember and relive the historic vote in that venue last August.
On the evening of Saturday, July 10, we are having a night on the town! We will head over to downtown Minneapolis to revisit the historic place where the ELCA voted for full-participation of people of all sexual orientations and gender identities. It's appropriate to revisit the site. Many people said that celebration felt "stuck in their throats". We hope that we will be able to clear our throats and cheer with joy. It will be an evening of reconciliation, celebration, and defining our path moving forward.
Busy.  Busy.  Busy.  But also extremely rewarding.  Hope to see you along the way.