Home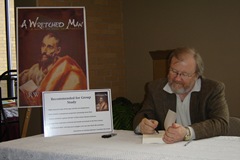 This is the personal website of RW "Obie" Holmen, former trial attorney and now author.
For the story behind my nickname of "Obie" as well as personal background information, go the Call me Obie page.  A full curriculum vitae appears at the bottom of that page.
Why did I become a writer after twenty-five years of practicing law?  Check out the Journey page, which also answers the question, "why did you choose to write about Paul?"  The page also details the background to my other writing projects.  The Craft page discusses how I became a writer, especially a writer of fiction, after many years of writing professional papers as a lawyer.
For detailed information about each of my published books, a novel and numerous short stories, check out the Works page.  The Bookstore page contains information about pricing and purchase options.  Please note that my published works are all available as eBooks, but only the novel is available as a paper book.
Public speaking goes hand-in-hand with writing.  Check out the Appearances page for information about my public appearances.