Queer Clergy recounts the journey toward full LGBT inclusion in the church, and readers will encounter many pilgrims along the way. As we countdown to the release of the book (now looking like the end of November), I will provide brief biographical sketches of some of the wayfarers who criss-cross the pages of the book.
Troy Perry was born to a family of bootleggers in the Florida panhandle, and he exhibited a youthful bent toward preaching. Perry became a Baptist preacher at age 15, married a preacher's daughter at age 19 with whom he fathered two children, and was assigned as pastor to a Pentecostal Church in Santa Ana, California at age 22. Six years later he attempted suicide after he had been defrocked and divorced, and then life got interesting.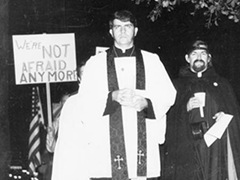 In October 1968, 8 months before the Stonewall riots of Greenwich Village marked the birth of the gay liberation movement, Perry held a worship service in his Los Angeles home for members of his gay community. Twelve persons dared to show up. They sang. They read Scripture. They prayed. Perry preached. They shed tears as they shared bread and wine.
That was the first worship service of what became the Metropolitan Community Church (MCC) movement with hundreds of predominantly gay congregations popping up around the country and around the world in what would become the first welcoming church for gays and lesbians at a time that the rest of Christendom, including the mainline, Protestant denominations, remained hostile.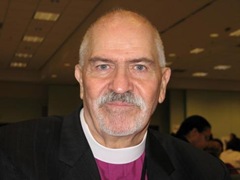 In the early years, the MCC survived several arsonist fires, including a horrendous tragedy in New Orleans that claimed the lives of 32 persons. By the time of Perry's retirement in 2005, the MCC had grown to over 250 congregations in 26 countries with 43,000 members.
Of course, the book goes into greater detail.