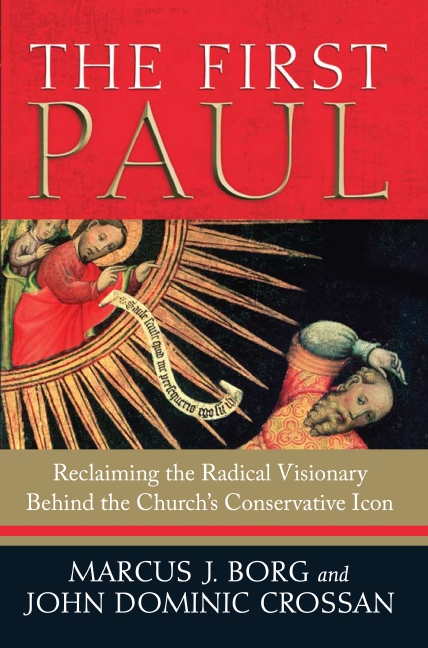 Original members and leaders of the Jesus Seminar, Marcus Borg and John Dominic Crossan have settled in as very popular authors, reaching beyond the academic community into the pews.
Their latest collaboration is not about Jesus but about his first and foremost interpreter, Paul the Apostle, and their purpose is to reclaim "the Radical Visionary Behind the Church's Conservative Icon." In this, they mostly succeed.
I am going to break this book review into several parts because there are too many issues raised for discussion in a single post. This first part will discuss an issue raised elsewhere in this blog, especially by the post, "Just what is the Bible and how do we use it?"
In an interview with Deborah Caldwell posted on Beliefnet half a dozen years ago, Borg explains:
Broadly speaking, there are two different visions of Christianity in North America today. The earlier vision is the product of the last few hundred years, especially the last 150 years. This earlier vision of Christianity is literalistic in its understanding of the Bible, absolutist in its understanding of the ethical teachings of the Bible, and exclusivist–meaning Christianity is the only way.

That's the vision of Christianity that the majority of us grew up with, whether we are mainline Protestant, Catholic, or conservative Protestant. But that way of seeing Christianity has become unpersuasive to millions of people–who can't be literalists or absolutists or exclusivists. But now there is an emerging vision, an emerging paradigm.

The conflict between these two paradigms can be seen in many different places. In the second half of the 19th Century and early in the 20th Century we saw conflict over evolution. Thirty years ago the conflict was over ordination of women in mainline denominations, and of course today we see the conflict about gays and lesbians in the church. For Protestants, the two visions have everything to do with biblical authority. The earlier vision sees the Bible as divine product with a divine guarantee to be true. The emerging vision sees the Bible as a human historical product, the product of two ancient communities [Judaism and Christianity]. It tells us what they thought, not what God thinks.

My [work] has almost an evangelistic purpose–to show that Christianity makes persuasive and compelling sense, that the intellectual stumbling blocks that many people experience with Christianity are unnecessary and artificial and largely the creation of the last few hundred years. I'm persuaded that Christianity, rightly understood, makes sense–and so do Judaism, Islam, Hinduism, and Buddhism. And they make very much the same kind of sense.
Not surprisingly, Borg and Crossan are criticized by conservatives. "But because the findings of the Jesus Seminar can be threatening to many and seem to undercut their spiritual life and journey, scholars from the Jesus seminar are often harshly criticized," says blogger Gordon Atkinson. Conservative blogger Ken Silva devotes a whole category of blog posts to questioning whether Borg's teachings, and Borg himself, are Christian.
In Part 2, I will take a closer look at how Borg and Crossan's non-literalist, non-absolutist, and non-exclusivist point of view regarding Jesus and Scripture play out in their attempt to "Reclaim the Radical Visionary."
Originally posted in Spirit of a Liberal blog.