Appearances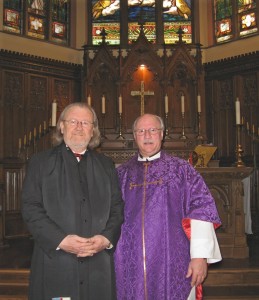 As a former trial attorney, it is not surprising that I have a penchant for public speaking.  And, for over twenty years, I have been an adult-ed teacher with a passion for early church history.  Thus, I am ready, willing, and able to speak to your group.  This picture comes from Christ Episcopal Church of Delavan, Wisconsin where I spoke to their book club and also delivered the sermon during Sunday services.
Here is a sampling of speaking engagements in the last year:
Book clubs about the novel, A Wretched Man
Adult forums about "the historical Paul"
Combination sermon/adult forum
Workshops on Paul's writings about same-gender sex
Clergy conferences & associations about the novel
Public libraries about the craft of fiction writing
Beginning this fall, I will host a series of two-day retreats entitled "A weekend with Paul" at church camps.  Here's a link to a PDF file that is a brochure for Camp Hiawatha in northern Minnesota that illustrates the nature of these retreats.
I will also be an instructor this fall for the Cannon Valley Elder Collegium, whose motto is "A Questing Mind Never Retires".  My class is entitled, Communities in Conflict: the Politics behind the New Testament Canon.
Speaker's fees vary depending upon circumstances, including travel and whether the appearance includes book sales.
obie (dot) holmen (at) gmail (dot) com.