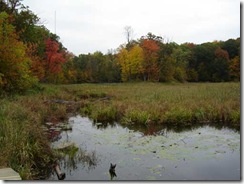 What could be better?  The campus of St Johns surrounded by hardwoods dressed in autumnal red and gold and yellow.  The Great Hall and the School of Theology: perhaps an encounter with a professor from my days here a decade and a half ago.  A tour led by Northfield friend, Lutheran Pastor Keith Homstad, an oblate of this Benedictine Abbey.  Capped off by an evening address by Sister Joan Chittister, entitled What in the Monastic endeavor touches the heart of the gospel?
Sister Joan is a leading Catholic feminist and voice for progressive Catholicism.  Among other liberal causes, she is an outspoken advocate for the ordination of women to the priesthood.  The press release notes just a tip of the iceberg for her accomplishments:
S. Joan Chittister, OSB, a Benedictine Sister of Erie (Erie, Pa.), is a best-selling author and international lecturer on topics of justice, peace, human rights, women's issues, and contemporary spirituality. She is founder and executive director of Benetvision, a resource for spiritual seekers. S. Joan received the annual Outstanding Leadership Award from the Leadership Conference of Women Religious at its 2007 national assembly. She writes a regular column for the National Catholic Reporter. Her most recent books are The Breath of the Soul and The Fine Art of Living.
Her lecture is sponsored by the Conversatio Lifelong Learning Program of Saint John's School of Theology·Seminary, 8 p.m., Friday, October 9, 2009 Stephen B. Humphrey Theater, Saint John's University, Collegeville, Minnesota.