Were you shocked by the election results?  If so, perhaps you should stop watching Fox News.
David Frumm is a Republican writer for the Daily Beast and Newsweek, and he coined the phrase, "conservative entertainment complex" to describe media personalities and organizations whose financial motivations (i.e., ratings) color their pseudo-political news and commentary.  What is reported and how is dictated by audience share rather than responsible journalism.  Frumm suggests that the Republican cause was ill served by dishonest appraisals of the issues and the electorate.  Actually, Frumm's language is robust: "Republicans have been fleeced and exploited and lied to by a conservative entertainment complex."
Rush Limbaugh, Ann Coulter, and Glen Beck are unnamed but obvious candidates for the "conservative entertainment complex" criticized by Frumm.  Their bombast is meant to entertain rather than inform.
What about Fox News, the most-watched cable news network?  Apparently, CNN or other network news programming was streaming in the ballroom where Romney supporters watched election night returns, but as the news soured they demanded a switch to Fox.  What that says about the willingness to be misled is fascinating.  With Pavlovian predictability, the supporters knew where to turn to hear what they wanted to hear.  Unfortunately for those viewers, Fox also called the election for Obama relatively early thus dashing all false hopes in a fascinating scene in which Karl Rove disputed the call.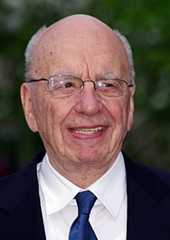 Any analysis of Fox must start with Rupert Murdoch.  Murdoch is the Australian-born media magnate who first penetrated the British tabloid market and then the American, founding the supermarket favorite, Star Magazine, in the seventies.  In 1985, he sacrificed his Australian citizenship in order to gain citizenship on these shores to get around the legal requirement that the owner of U.S. TV stations must be a citizen.  It is Murdoch's media empire that is now under criminal investigation in Britain for illegal phone tapping, and many of his highest-ranking associates are under indictment.  Murdoch's conglomerate founded Fox News in 1996, and it remains among Murdoch's current U.S. holdings.
A recent study found that viewers who didn't watch any news on TV were able to answer 1.22 standardized test questions correctly.  The most informed were those who listened to NPR or watched the Sunday morning talk shows with average scores of 1.51 correct answers.  Fox News Viewers?  1.04.  Yep, that's right.  The study demonstrated that Fox viewers were less informed than the folks who didn't watch any news!
Faux News is more than a pejorative descriptor; it is accurate.