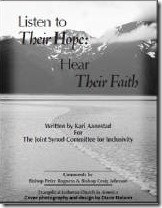 This is the third of ten installments of LGBT faith stories from the Minneapolis/St Paul area.  These stories are taken from a booklet published by the Joint Synod Committee for Inclusivity of the twin cities metro area synods of the ELCA.  The compiler and author of the booklet is Kari Aanestad, a seminarian at Luther Seminary in St Paul.
These stories are published here in anticipation of the 2009 ELCA convention in Minneapolis that begins August 17th.  Gay marriage and gay clergy proposals will be considered, and the ELCA may become the largest Christian denomination to allow same-gender marriage and to ordain gays who live in an open and committed relationship.  The ELCA consists of nearly five million members in the US.  The United Church of Christ (UCC) with around one million members already allows gay marriage and gay clergy, and the Episcopal Church of around two million members recently concluded a historic convention that opened the doors for full participation in "all the sacraments for all the baptized."
Here is the story of Karl and Christopher, "so darn happy together" that they inspire a niece in a society of broken relationships.
Karl Starr and Christopher Haug, partners for over 15 years, greeted me together at the front door and welcomed me into their comfortable living room. An upright piano stood against the south wall, surrounded by a pumpkin suede couch and dark wooden chairs. An Evangelical Lutheran Worship hymnal was propped up in the center of the piano, surrounded by dozens of framed family pictures. Dark wooden shelves housing healthy green plants lined the walls of their dining room. As their surroundings suggested, their stories soon showed that the Lutheran Church and music are important to both of these men.
"We always have done more than sit in the pew," Karl said.
"Church isn't just worship for us; it's also community," Christopher added.
Christopher was raised in the Lutheran Church of America and was active until a period in college, when he pulled away. Surprisingly, he became involved in the church again after he came out as a gay man. He joined a Saint Paul church where he regularly attended and was actively involved there until he met Karl. Karl is also a lifelong Lutheran. He was baptized at one month old on Reformation Sunday in 1956 and has been a part of the Lutheran church ever since.
"There was a three-week period when I didn't go to church during college at Saint Olaf," Karl said. "That was my rebellious phase."
After graduating from Saint Olaf, he found a new church community in the Twin Cities by September. The two men met in the Twin Cities Gay Men's Chorus after having both recently
ended relationships. The timing of their meeting was more than serendipitous. They were born three months apart and grew up a mile-and-a-half apart on the same South Minneapolis street. They both moved to different states during their teen years and returned to the Twin Cities area for college, attending private Lutheran schools. After graduating, they both worked for insurance companies for a time, yet they never met until they were 34 years old.
"It seems like the Holy Spirit kept us apart until we were ready for each other," Karl said.
After attending Christopher's church for two years, Christopher and Karl began attending a Lutheran church in downtown Minneapolis, chiefly because Karl's mom was a member there and could not drive anymore. Karl took her keys and promised to get her to church every Sunday. Both men have been significant members of their faith communities throughout their adult lives. Karl's involvement in church leadership stems from a lifelong calling to serve the Lutheran church, which he has had to fulfill in creative ways.
"The only job I've ever aspired to is that of a Lutheran pastor," he said, "but I realized during my college years that the Lutheran church's expectations around sexual behavioral norms didn't square well with me because I knew I was gay.  I don't know how I could have lived with the tension of either being celibate or being closeted and deceptive — I don't think I could do either. I consider myself fortunate to have figured that out early on and made the decision to live out my faith as an active lay person."
He has been able to do so by being involved in Twin Cities Lutheran churches for nearly 30 years. Karl attended one church for 27 years, and during that time he was a Sunday school teacher, a confirmation teacher, a Sunday school superintendent, the church council secretary, the congregation's treasurer, vice president and president, the stewardship director and the education director. He also helped lead several capital campaigns, call committees and a campaign to make the church handicap-accessible. Karl was especially proud of the success of that campaign.
"When I was in my early 30s, I thought that if we were serious about the church being a house of God for all people, then we needed to make it a house in which all people could come, get inside and have their basic needs met while they were there," he said. "It took a lot of study, work, and persuading, but eventually our congregation of 500 people raised a quarter of a million dollars for the renovations. We bought a run-down house next door to the church, tore it down, and turned it into a handicap-parking lot. We added a grade-level entrance with an elevator that could go up or down. Both able-bodied and disabled-bodied people went in and out of the same door. In the course of less than 10 years, my pastor went from the point of my being the first person he knew was gay to presiding at my union ceremony."
Christopher is also serving the church as a team member of the environmental planning committee. He helps decorate the vaulted space each liturgical season and holiday. Karl's most recent project for his church is to promote hospitality within the community.
"Our church is a really warm and caring place once you crack the surface," Karl said. "We're just typical Scandinavian reserved. The longtime members, sweet as they are, are old Norwegian Lutherans. We can't seem to break out of that reservation and overtly welcome guests."
Members of their new church have shown their appreciation for Karl and Christopher.
"We are with Karl's mother every Sunday in church, making sure she gets to the front of the church to receive communion. We're just doing the things you do for your family, and people compliment and praise us for it. They see that Karl and I are a couple, but any problems with that seem irrelevant because we're doing all of these other things that impact people's perceptions."
"Of course, that's not why we're doing all of that for our family," Karl said. "We're doing it because it's the right thing. It's neat to see how when you do the right thing by being committed, responsible and loyal, you see how it affects other people."
Karl and Christopher have set an example of what commitment can look like, and they certainly have changed hearts and minds. When they held their blessing ceremony at their Saint Paul Lutheran church, both of their pastors participated. Years earlier, Karl's pastor had shared with him that Karl was the first openly gay man he had ever known and with whom he had openly interacted.
"In the course of less than 10 years, my pastor went from the point of my being the first person he knew was gay to presiding at my union ceremony — that's a lot of growth for him," Karl commented.
Christopher commented that his niece is also inspired by his relationship with Karl.
"Whenever people say that it is impossible to stay happily married, she just points to us. We're not deliberately trying to be an example of a good relationship. We're just so darn happy together, and we let that show."
When asked whether they'd ever faced conflict as outspoken leaders and openly gay men in a Lutheran community, Karl responded, "There are moments when I could conceive of walking away from it all. But then there are people like our pastor and my mom's friends in church who think the most of us and are working to make sure we're included."
"There are lots of reasons to give up," Christopher added, "but we get lots of encouragement
and reinforcement too."
"I'm just getting tired of the never-ending debate in the national church regarding the ordination of gay clergy," Karl said. "All of the announcements, committees, declarations, and studies are exhausting. How much more can they study us? "
"Gay people are already in leadership and service positions in every direction you can think of," Christopher said. "Hetero folks are starting to see that and realize that gay people are also fellow redeemed children of God with gifts who also feel called to apply those gifts to service."
"In spite of the frustrations, there is value for people like Christopher and me to be involved
in the mainstream Lutheran church and to let our lights shine."