Here is the latest email received from the office of the ELCA secretary, David Swartling:
Here are the updated numbers on congregational votes to leave the ELCA:  as of 12/7/10, 666 congregations had taken first votes to leave the ELCA.  These 666 congregations have taken a total of 700 first votes.  (As we've seen, some congregations have taken multiple first votes.)  Of the first votes taken, 481 passed and 219 failed.  326 congregations have taken second votes (and one congregation has taken two second votes!)  Of the total of 327 second votes; 308 passed and 19 failed.
Meanwhile, the silliness over the pending ELCA social statement regarding genetics continues.  It was previously reported that this potential social statement has some Dakota farmers erroneously concerned that their farming practices are criticized by the statement.  A Fargo newspaper has been in the firestorm.  Following a newspaper report that a small rural ELCA congregation had decided to depart the ELCA based—in part—on the pending genetics social statement, a letter to the editor from that congregation denied that the genetics social statement was important for their decision, notwithstanding an earlier quote from the congregational president to the contrary.
So, who is fanning the flames?  Who is spreading the misinformation?  The usual suspects.
Many of those involved in agriculture think the ELCA should focus on its mission of preaching the Gospel and making disciples of Christ rather than telling them how to grow crops.
So says Lutheran CORE spokesman David Baer on the CORE blog, referencing a discredited Dakota Farmer magazine article.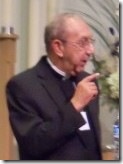 Meanwhile, even as Baer and CORE criticize the ELCA for "focusing on political activities and social statements," NALC bishop Paull Spring joined the efforts of Archbishop Tim Dolan, President of the Conference of Catholic Bishops, to oppose marriage equality in the political arena.  The President of the Missouri Synod (LCMS) and the Archbishop of the Anglican Church in North America (a dissident splinter group from the Episcopal Church) also signed on to the effort.
CORE gave birth to its own denomination, the North American Lutheran Church (NALC) in August.  Since then, over half the posts on the CORE blog continue to be harsh criticisms of the ELCA.  One would think that the business of starting a new denomination would be their core focus going forward, but it seems CORE just can't break their habit of ELCA bashing.  Is antipathy toward another Lutheran and Christian denomination their core reason for existence?
The ELCA does not speak through a blog, but regularly issues press releases.  In the 75+ ELCA press releases since the formation of the NALC, there were countless reports of ELCA missions and ministries but nary a word criticizing CORE.