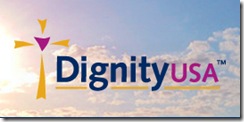 DignityUSA is the activist organization that advocates for LGBT inclusion within the life of the Roman Catholic church.  Their motto is "celebrating the wholeness and holiness of Lesbian, Gay, Bisexual & Transgender Catholics."
Dignity has announced support for a couple of events in the next few months.  First, a statement from their board of directors announces:
DignityUSA endorses the National Equality March, October 10-11, 2009 in Washington, DC, and will participate fully in this event. As the nation's foremost organization of gay, lesbian, bisexual, transgender Catholics and our allies, we call on members and friends to support this March, and the principles for which it stands. Civil rights for our community is a hallmark of justice, and as Catholics, members of the largest denomination in the US, we believe we have a particular responsibility to witness to our belief in justice for all people in the places where public policy is made, as well as in our Church.
Second, Dignity will be a major participant in the Milwaukee annual conference of Call to Action, which promises to bring several thousand progressive Catholics together in November for three days of "exhibits, prayer, networking, children & teen programs, music, keynote speakers Roy Bourgeois, Dianne Bergant, Clarissa Pinkola Estes and much more!"  Dignity encourages Conference participants to "visit DignityUSA's table in the exhibit area, meet up with other members and friends during our Friday evening reception, and attend our caucus on Saturday afternoon."
Here in Minnesota, both Dignity and CTA have local chapters, and blogger Michael Bayly is very active with news of each on several blogs including The Progressive Catholic Voice and The Wild Reed.  He announces that the Minnesota chapter of Call to Action will have its own annual conference on Oct 31, just before the National Conference in Milwaukee.  The local conference will focus on "The Coming Democratization of the Church".