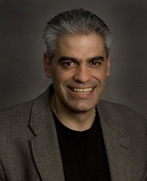 The President has appointed Dr. Miguel Diaz to be ambassador to the Vatican. 
Blogger Andrew Sullivan comments on his Hispanic background (Diaz is Cuban-American) and notes that he is an academic with outstanding scholarly credentials. 
James Martin, S.J. of America, the National Catholic Weekly applauds the choice. 
[T]he nomination is clearly going to a talented and faithful Catholic (like Mary Ann Glendon), rather than a straight political appointee, and it is also going to someone who clearly understands not only the Vatican but also Catholic theology at the highest levels. 
Diaz is a theology professor at St. John's/St. Ben's in central Minnesota.  St. John's School of Theology is where I pursued post-graduate studies in theology and Christian history although I was there before Diaz.  But, I can attest to the progressive spirit of ecumenism as well as a committment to the highest standards of critical scholarship amongst the Benedictines of these fine institutions.
Recent St Ben's graduate Beth Dahlman of Faith in Public Life concurs. 
St. Ben's and St. John's (the two schools have a close partnership and share an academic program) are special places to me; they embody a commitment to a lived faith that is theologically and spiritually serious while still engaged with the needs of the wider world.
Dahlman was a theology major at St Ben's where she served as TA for Diaz' systematic theology class, and Diaz served on the advisory committee for her honors thesis.  She suggests that Diaz is an outstanding choice for ambassador based on "the passion with which he taught theology and his inclusion of theologians from diverse backgrounds, in the way he hosted classes at his home for end-of-semester celebrations, and in his obvious love for his family–that will serve him well in his new position."