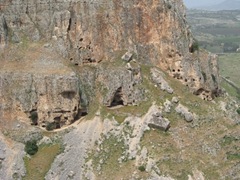 Antiquities experts have released the contents of a Christian manuscript that may predate Paul's letters and the gospels.  Discovered in one of the many caves of the Arbel cliffs overlooking the Sea of Galilee, the fragment appears to be an early version of a passage that later appeared in Mark and the Synoptic gospels.  Carbon dating places the document in the third or fourth decade of the first century near the time of the crucifixion.  Some suggest the fragment contains the actual words of Jesus of Nazareth.
Here is the translation from the Aramaic text:
Some Pharisees came, and to test him they asked, "Is it lawful for a man to marry a man or a woman to marry a woman?  He answered them, "What did Moses command you?" They said, "You shall not do as they do in the land of Egypt, where you lived, and you shall not do as they do in the land of Canaan, to which I am bringing you." But Jesus said to them, "Because of your hardness of heart he wrote this commandment for you. You shall not lie with a male as with a woman; it is an abomination.  But from the beginning of creation, 'God made them male and female.''For this reason a man shall leave his father and mother and be joined to his wife, and the two shall become one flesh.' So they are no longer two, but one flesh. Therefore what God has not made to lay together, let no one join in marriage."
I apologize for my  falsehood.  Of course, no such text has been discovered or exists; yet, the actual passage on divorce, which has nothing to do with same-gender relationships, has been coopted by conservative defenders of "biblical marriage", who latch onto the phrase "God made them male and female" and take it out of the context.  As the nation and our churches wrestle with marriage equality issues, this divorce text has become the "clobber passage" du jour.  My purely fictive version of Jesus' teaching on divorce is no less perverse than the interpretation that twists this passage into authority against marriage equality.  I have merely written down in plain language what some infer from the text.
When you see it in black and white, it seems rather far-fetched, doesn't it?  Is my fictive version equivalent to the actual version below?  Of course not, yet some would have you believe so.  Exegesis is the process of getting 'out' of the text what is truly there in the first place. The opposite of exegesis is eisogesis. This is the process of putting 'into' the text something that wasn't intended by the author.
For reference sake, here is the actual text from Mark 10:2-9 (NRSV).
Some Pharisees came, and to test him they asked, "Is it lawful for a man to divorce his wife?" He answered them, "What did Moses command you?" They said, "Moses allowed a man to write a certificate of dismissal and to divorce her." But Jesus said to them, "Because of your hardness of heart he wrote this commandment for you. But from the beginning of creation, 'God made them male and female.' 'For this reason a man shall leave his father and mother and be joined to his wife,and the two shall become one flesh.' So they are no longer two, but one flesh. Therefore what God has joined together, let no one separate."