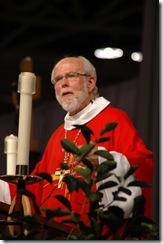 Whew! 
The opening service and today's Eucharist service filled me up.  Pageantry, outstanding music, dynamic liturgy, and prophetic preaching.  Even though there are serious policy conflicts and spirited debate, the unity of the body of Christ in these two worship services has been inspiring.
Last night, Presiding Bishop Mark Hanson combined humor with honest expression of fear to eloquently get the assembly moving forward.  With a hand written specimen of the St. John's Bible placed in the center of the people, fear not, proclaimed the shepherd of millions across the nation and thousands gathered here.  Do not let "fear rather than faith become our witness," Hanson said from the pulpit, but "be open to the place where Christ promised to be … there is peace."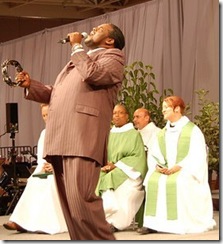 Today, the gift of song was offered by virtuoso Roosevelt Credit, beginning with swaying gospel and response as the people gathered, then Bach as the people prepared to dine at the Lord's Table, then Cuando el pobre (When the poor ones) as the people offered their gifts, and then rollicking blues riffs of Just a Closer Walk as the people were sent.  Preacher, the Rev Megan Torgerson, offered justice to the people, but not the justice of vengeance but of the mercy of the year of the Lord, here in this place.
I'll be back tomorrow for more, and I especially look forward to the Goodsoil Eucharist offered at 7:30 in the evening across the street from the Convention Center at Central Lutheran Church.
Whew!