Not all important decisions at this biennial convention are controversial. 
The ELCA Churchwide Assembly voted today to enter into a full communion agreement with the United Methodist Church.  In a parade of bishops, many of the 65 synodical leaders marched to the microphones to sing the praises of their relationships with the United Methodist congregations in their region.  Then, the assembly formally authorized the agreement by a vote of 958 to 51 and informally demonstrated their appreciation of this new relationship with a warm, standing ovation.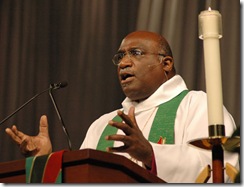 As a prelude to the discussion and vote, Methodist Bishop Charles Palmer delivered the sermon during the worship service earlier in the day.  Here is a link to the story of the agreement from the perspective of the UMC website.  The UMC had 11 million members as of 1968, according to the website, so it is larger than the ELCA.
On a figurative level, such full communion agreements recognize that we have a great deal in common with other mainline Protestant churches, a visible sign of the unity of the church catholic.  These agreements are positive fruits of the ecumenical impulse.  On a more practical level, such agreements allow for sharing of clergy.  An ordained ELCA pastor could be called by a Methodist congregation and vice versa.  As the ELCA bishop of Montana suggested, this is very important in sparsely populated regions, and the opportunity for two parish calls, one Methodist and one Lutheran is very real.
The ELCA already has full communion agreements in place with the Episcopal Church, the United Church of Christ (UCC), the Presbyterian Church, USA, the Moravian Church, and the Reformed Church of America (RCA).
Here is the description of full communion partnership from the ELCA website:
For the Evangelical Lutheran Church in America, the characteristics of full communion are theological and missiological implications of the Gospel that allow variety and flexibility. These characteristics stress that the church act ecumenically for the sake of the world, not for itself alone. They will include at least the following, some of which exist at earlier stages:

a common confessing of the Christian faith;
a mutual recognition of Baptism and a sharing of the Lord's Supper, allowing for joint worship and an exchangeability of members;
a mutual recognition and availability of ordained ministers to the service of all members of churches in full communion, subject only but always to the disciplinary regulations of other churches;
a common commitment to evangelism, witness, and service;
a means of common decision making on critical common issues of faith and life;
a mutual lifting of any condemnations that exist between churches