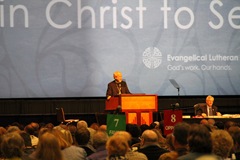 Two years ago, I attended the ELCA 2009 Churchwide Assembly (CWA09) as a volunteer, and I had plenty of opportunity to submit reports to the blogosphere.  Many readers found this blog at that time and have continued as regular followers.
The 2011 biennial Churchwide Assembly (CWA11) convened in Orlando a week ago, Monday the 15th of August, and I was there as a voting member.  I fully intended to provide ongoing blog updates, but that proved to be impossible due to time and energy spent in plenary sessions, worship, morning discussions in the lobby while sipping Starbucks coffee, or late night gab sessions with friends old and new.
I met a few blog or social media contacts face-to-face: blogger Pastor Justin Johnson from New York, Augsburg Fortress CEO Beth Lewis, and Pastor Nadia Bolz-Weber of Denver.  I rekindled friendships with the leaders of Lutherans Concerned/Goodsoil.  I enjoyed a couple of long discussions with my cousin Bill Gafkjen, who is finishing his first year as Bishop of the Indiana-Kentucky Synod; Bishop Bill was added to the St. Olaf Board of Regents during the Assembly, so we look forward to seeing Bill in Northfield from time to time.  John Nunes, President and CEO of Lutheran World Relief, offered a verbal book report to me and other conversation partners regarding my Wretched Man novel.  And so many more …
So, please excuse the tardy nature of my assembly reports, which I will post here this week.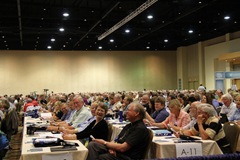 At this time, I will offer this foreword.  On Thursday evening, Bishop Huck Usgaard gathered the voting members from the SE Mn Synod for a final prayer huggle.  Erica Staab asked each to offer a one-word summation.  Here are a few responses: awesome, overwhelming, fulfilling, gratifying, uplifting, powerful … 
One veteran suggested this was the most spirited and spirit-filled Churchwide Assembly since the very first one two-and-a-half decades ago.  Others offered these metaphors: a cleansing exhale after a long time holding our breath, all in the boat paddling in the same direction, eyes meeting in trust rather than averted in suspicion.
More to come …