At the 2009 Churchwide Assembly of the ELCA (CWA09), a human sexuality social statement was adopted and ministry policies were revised to allow partnered gays to be "recognized and supported" and to serve as fully rostered clergy.  These actions caused some to issue doomsday predictions for the future of the ELCA.  Truth be told, some hoped for ELCA devastation and cheerleaded the prospect.  Lutheran CORE spawned a dissident denomination with pretensions to "realign North American Lutheranism."  My blog tracking reports identify these Google searches just within the last month: "Collapse of ELCA", "Downfall of ELCA", "ELCA decline", and more.
What is the reality?
To be sure, these past two years have been painful as congregations and members have departed the ELCA, and the process of separation has been conflicted and rhetoric harsh.  Coupled with the Great Recession, church revenues have decreased significantly, resulting in deep cuts in order to keep the Churchwide budget balanced.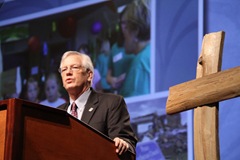 Yet, the upbeat and hopeful 2011 ELCA Churchwide Assembly (CWA11) struck harmonious chords–consonant and not dissonant.  ELCA Secretary David Swartling provided the numbers, according to the latest data available:
95% of over ten thousand ELCA congregations remain
94% of over four million ELCA members remain
There have been 832 first votes to leave (51 congregations voted multiple times)
621 congregations have passed the first vote
517 congregations have passed the second vote
The greatest number of defecting congregations are rural
The greatest number of defecting members are from large, urban congregations (megachurches)
Annual congregational benevolence exceeded $2 billion
Total congregational assets exceeded $22 billion, which is growing
In many communities where congregations have splintered, Synodically Authorized Worshiping Communities (SAWC) have sprung up
A constitutional amendment was passed during CWA11 pertaining to separation procedures.  A congregation with a failed first vote must have a cooling off period and may not vote again for six months.  Also, a congregation with a failed second vote must start the process over but not before the cooling off period of six months has passed.
And what of the actions of CWA09, were they revisited by CWA11?  Were there skirmishes on the floor?
Nary a whisper.
I know that Goodsoil, the LGBT advocacy group, came prepared to defend the actions of CWA09 if necessary, but nothing developed.  The recommendation of the Memorials committee to decline any reconsideration was adopted en bloc without comment.  No floor resolutions were offered.  The anti-bullying resolution passed without any speakers in opposition and with 97.5% in favor.  Clearly, this church body has moved on with a sense of hope and renewed mission, and the inclusiveness embodied in the actions of CWA09 is now part of our identity.
With Mark Twain, we may confidently state, the report of our death is exaggerated.