Keith Pearson is the pastor of First Lutheran of Hector, Minnesota … and my brother in law.  He just got back from the ELCA youth gathering in New Orleans, along with a handful of youth from his own parish.  They were part of a larger group of several dozen from the area who journeyed together.  Pastor Keith has consented to a reprint of his five days of blogs, his own first person account.  Check out Keith's blog, which contains a ton of pictures.
Day One
Wednesday, July 22, 2009
Much  of our first day was simply about getting there. We had some last minute schedule changes, some delays, and one lost bag, but in the end we arrived here safe and sound.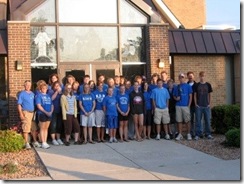 Once on the ground in New Orleans we checked in to our hotel and then headed to the New Orleans Convention Center where our activities began. At supper time we managed to sample a little taste of New Orleans at "The Crazy Lobster," a restaurant right on the edge of the Mighty Mississippi. Some were bold in their food orders, others stuck to burgers and fries. We even had a little live New Orleans Jazz music to accompany our meal.
It was pretty exciting to see this big old city filled with teens from around the country. Everywhere you look you could see groups of kids (most in flocks of like-colored shirts) soaking in the sights and sounds. Quick shout-outs happened between the groups, declaring where they came from and inquiring about our group. I have to say, there is something in the air that's pretty exciting.
After supper it was back the hotel for "Community/Hotel Life." There was a band in the ball room and swimming at the pool. The kids scattered to their preferred activities before turning in for the night.
Day Two
Thursday, July 23, 2009
Day 2 was the real beginning or our New Orleans experience. We began the day with our turn in the interactive learning center. There were games for the sake of playing together and there were games and activities that made you think about your role in the world.
We also had our first full day on the streets of New Orleans. That in itself is quite an experience. This is definitely NOT Renville County. You'll have to ask the kids what they thought and what they saw. All in all the City is very happy to have us here and they are being very gracious and welcoming to this massive influx of teenagers. Although this is still a large city and we are always watchful for dangers and all the other darker sides of humanity that come with this sort of setting, still we have felt quite safe and secure everywhere we have gone.
Our closing event for the evening was our first "Mass Gathering". Try to imagine 37,000 teens and their adult leaders filling the seats of a major venue like the Superdome. Now imagine a 20 story illuminated cross, pounding music and cheering crowds. It had all the elements of a major rock concert, but the star of the show was Jesus. There were wonderful speakers telling their dramatic stories of faith in action and the power of the Holy Spirit working through simple, often young people. There were teams of teens acting out lessons and preaching the gospel in ways that had the kids cheering, laughing, and struck silent by the power of what they were experiencing. There was definitely something electric about the evening – and it had nothing to do with lights and sound or video projecting jumbotrons. The underlying current was a power of something unseen and yet profoundly felt. It was the presence of the Holy Spirit.
I wish you could have been here.
Day Three
Service Day
Friday, July 24, 2009
Day 3 was our service day. It began REALLY early. We had to be at our "launch site" at 6:30 a.m. having already had breakfast and packed for the day. That means we had to leave our hotel by 6:00 a.m. to make the 20 minute walk to the Convention Center where we would pick up the bus that would take us to where our day would begin. We didn't know what we would be doing exactly, but our category of choice was "Health and Wellness."
The organizers of the Gathering had explained to us that the situation on the ground was changing daily and so they couldn't know in advance exactly where we would be or what we would be doing. When we first boarded our bus we were told that we were going to a day-camp where we would be working with children. When we arrived at the site it was actually a high school football stadium that was in need of attention. It seems the field had been a site for helicopters to land and ambulances and other transport vehicles to pull in and get the injured and sick out of the city after hurricane Katrina. All of this activity on wet ground had left ruts in the field and the flood waters had coated the concrete stands with algae and mold.
The first question that came to my mind was, how can this still be a problem after four years? Most of what we have seen in and around New Orleans looks pretty normal. We have not witnessed any blatant remnants of the hurricane damage. Once we started working I began to understand. Our tasks for the day were to paint a swing set, scrape and paint a locker room, fill in the ruts in the field, and power-wash the concrete stadium seating area. We came fresh and eager to dig in and get to work. I dare say we even came with a little attitude (it's part of that midwest work ethic). Surely we could handle this.
Then reality set in. The tools and supplies we needed were not available immediately, and when they did arrive they were still in short supply. There wasn't enough paint to cover all the surfaces that needed it. Rather than three or four power washers there was only one. And then there was the heat! I don't know what the temperature was or what the official humidity level reached, but it was positively oppressive. In a very short period of the physical output required for this work zapped the energy out of everyone. We struggled to keep pouring in enough water to keep ahead of the dehydration. We all kept a high vigil over each other to head off any heat-related problems. Talking with Isaiah, the sole staff person at this facility, he thanked us over and over again. He said if it were not for our help all this work would be his solo task.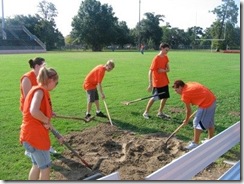 In the end we had to give up the effort a little ahead of schedule. And although we had accomplished much, many left feeling as though we could have done more, disappointed that the job was not finished. I told the group that this was true for just about everything God calls us to do. We rarely get to see the end of the job and there is always more to do than we have time, tools or the ability to do on our own. We have to give thanks for the ability to do what we can with the resources at our disposal and trust God to finish with the job with the hands of others.
At our mass gathering this evening the theme was Hope. Through the compelling stories of this evening's speakers we heard that it is through small and large acts of kindness and love that hope springs for those who may have felt their situation was hopeless. Hope is the fruit of love, and hope breaks open a world of possibilities.
I am extremely proud of our kids for the gift of hope they provided this day. They served tirelessly and joyfully, and would have worked much harder and longer if we would have allowed them to do so. I did not hear one complaint nor one request to stop.
Day Four
A tour that expanded our understanding.
Saturday, July 25, 2009
Our day began with a bus tour of the city's four major districts. We began with beautiful mansions and lush gardens and finished with the infamous "Lower 9th Ward" – the site of some of the worst devastation. It was quite a contrast going from beautiful historic mansions that were virtually untouched, to one of the poorest areas of the country nearly obliterated by the storm. In fact, if it were not for a few traces of concrete and paved streets you may not know anyone ever lived here.
It has been four years since hurricane Katrina hit New Orleans and so much remains to be done. It is humbling and maybe even a little disheartening to look at the tremendous amount of work left to be done. It would be easy to give up and just move on, but God rarely sends us down paths that are easy. When we hear the stories from people who have lived through these past four years, and when they show us photos from those first days I am encouraged. Progress has been made and things are much better, but there is still so much to do.
Our day finished off with another "Mass Gathering" at the Superdome – the same place that became an island of hope for the truly desperate survivors. There to kick off our final big night together we were greeted by the Mayor of New Orleans and received a personal "thank you" from him. That was followed by a letter of thanks and encouragement from none other than our country's president, Barack Obama. You know you have been part of something truly significant and important when the President of the United States takes notice and is suitably impressed with your actions.
Day Five
Saying goodbye, telling the story.
Sunday, July 26, 2009
Our last day in New Orleans would be mostly a travel day. We would not be doing any projects, attending any workshops, or joining in the final "Mass Gathering" that would officially close our event. We would, however, say goodbye to New Orleans and begin reflecting on our experience.
While the kids enjoyed a welcome opportunity to sleep in a bit and then pack up for the trip home I stopped down in the hotel restaurant for a bite to eat. I decided to treat myself to a real meal for the first time since our first night in New Orleans. The restaurant was nearly empty (I was there kind of early), and so my waitress was waiting patiently for more customers to come. I asked her a simple question: "Do you live here in New Orleans?" When she said "Yes" I then asked the question that quite literally opened the flood gates: "Where were you when the flood came?"
Her name was Brenda and she had been on vacation with her family. And so she had to watch the events unfold along with the rest of the world. She couldn't return home for two and a half months. The Marriott kept her and all the other employees on the payroll and even got emergency money from Mr. Marriott himself (she told all of this with deep appreciation). She lost several friends who were trapped and killed by the flood waters. Most of her family was scattered, thankfully all surviving, but most never to return to New Orleans. "I haven't seen my one sister since the storm. I used to see her every Sunday. Now she's just a voice on the phone to me."
She spoke of her love for New Orleans and how this was where her heart is. She was grateful for the places that had been her temporary home while waiting to get back to the city, but said that nice as they were they were not home.  She also spoke with hope that others would eventually feel the pull of their hearts to return to New Orleans. Still, she said, "I don't think New Orleans will ever be the same." I suspect she is right. It will never be the same, but I do believe a new New Orleans will emerge from this experience, and I think I will like that city.
Now it is our responsibility to tell the story of the people of New Orleans. Ask one of the kids or chaperones who attended the 2009 ELCA National Youth Gathering about their experience.