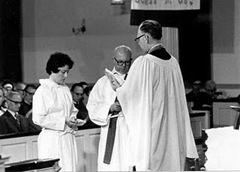 Did you know that it's been forty years since the first woman was ordained in a North American Lutheran denomination (a predecessor to the ELCA)?  Here's a link and a quote from the ELCA news release:
In 1970 the Lutheran Church in America (LCA) ordained [Rev. Elizabeth A. Platz] at U Maryland's Memorial Chapel, where she serves today.  Platz, the first woman ordained a Lutheran pastor in North America, has served her entire ministry as UM Lutheran campus pastor.  On Nov. 22 this year, the Evangelical Lutheran Church in America (ELCA) will mark the 40th anniversary of her ordination.
Pastor Sarah Scherschligt, who blogs as Barefoot Pastor, offers an excellent retrospective as well as questioning whether female clergy are all the way the way to full acceptance yet.
I have blogged extensively about the Rites of Reception for LGBTQ clergy who were formerly ordained extraordinarily.  In particular, I focused on the San Francisco Rite a few months ago and the St Paul Rite a few weeks ago.  Other, less publicized, Rites are also proceeding forthwith.  

Last Sunday, September 26th, Pastor Jen Nagel was welcomed to the roster of the Minneapolis Area Synod of the ELCA in a Rite of Reception at Salem English Lutheran Church of Minneapolis where Pastor Jen has served since 2003.  Actually, the service was held at a nearby theater due to construction issues at Salem, which will soon move into new space in a shared ministry with Lyndale United Church of Christ (of course, the United Church of Christ is a full communion partner with the ELCA). Pastor Jen was ordained at Salem English Lutheran in January of 2008.  Minneapolis Area Synod Bishop Craig Johnson presided at the Rite of Reception.
On November 7th, Pastor Lura Groen of Grace Lutheran Church of Houston, Texas will be added to the roster of the Gulf Coast Synod in a Rite of Reception at Grace.  Gulf Coast Synod Bishop Mike Rinehart will preside at the Rite, which is being called "No Longer Strangers".  On the homepage of Grace's website, Pastor Lura offers her gratitude to the courageous pioneers of Grace for extending a call to her:
Dear People of Grace-

Two years ago, you made the bold and Spirit-filled decision to call the best pastor for you, regardless of sexual orientation or gender identity. And being the person you called, I'm awfully glad you did! But also, as your pastor, I am so proud of your witness.

It is a good thing to see the Spirit at work in the church, and to celebrate what God has done at Grace. And even more beautiful to know this is only one of the great things God is doing here!

I hope you see the Holy Spirit working in your own, individual lives too! In addition to the presence that calms and comforts you, I hope you experience God calling you into new, risky, beautiful things. And- I hope you're sharing them with each other, and with me, when it happens!

I am always proud to serve such a justice-loving congregation, and such wonderful people.

Pastor Lura