Is "conservative evangelical" a redundancy?  Aren't all evangelicals conservative?  I recently cited a New Jersey poll that suggested that Roman Catholics, Jewish, and mainstream Protestants held similar, positive views on marriage equality (about 10-15% more favorable than unfavorable), but that evangelicals were overwhelmingly negative.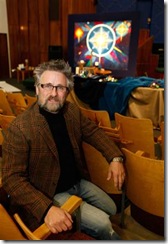 As a generalization, the perception holds– most evangelicals are conservative.  But, there are exceptions.  There is a major news story out of Denver about a startup mission church that is evangelical and openly affirming of gays and lesbians.  The Rev Mark Tidd is Pastor of Highlands Church in Denver, which is a new satellite congregation of Pathways Church.  Tidd was initially on the staff at Pathways.
Highlands didn't begin with a gay affirming policy, but Tidd soon began the Sunday service welcome with the words, "queer or straight here, there's no hate here."  Many were upset and much of the original membership gains were lost.  Over two months, half the membership and 2/3 of the financial support departed Highlands.  The relationship with parent church Pathways was also strained but not broken, and they continue to work together on some things like an upcoming service project trip to New Orleans.
After these setbacks, attendance at Highlands is again on the upswing, and it will be interesting to follow the course of Highland's development. 
David Dockery, president of Union University, a Southern Baptist school in Jackson, Tenn., believes Highlands is — and is likely to remain — outside of the mainstream of evangelical churches.

"I don't think it can be taken for granted anymore that the traditional evangelical view will be adopted by the coming generations given the changes and shifts in our culture," Dockery said.

That makes it all the more important, he says, for evangelical leaders to clearly teach the traditional views on homosexuality.
There is also a nationwide ministry called Evangelicals Concerned.  It would appear that the western region of that organization is the most active with a blog and a website , which offers the following mission statement:
Evangelicals Concerned (EC) is a nationwide ministry which encourages and affirms lesbian, gay, bisexual and transgendered Christians in their faith. We organize small groups, bible studies, social activities and other events in many North American cities, and we organize national and regional conferences every year.

EC holds that the love and Grace of God is available to all persons through Jesus Christ. We believe that human delineations such as race, gender or sexual orientation are not held relevant by our Creator.