On Saturday, I was at Gustavus Adolphus College in nearby St Peter, Minnesota signing copies of my book, A Wretched Man, a novel of Paul the apostle as a guest of Bookmark, the campus bookstore.  A lot of folks asked if I was a Gusty grad, so I told my story numerous times about how I was all set to attend Gustavus, coming from my Swedish, Lutheran background, but at the last minute I decided to head east to Dartmouth.  Still, I had family and friends who did attend Gustavus, so I spent some time on campus decades ago.  Once, I hitchhiked from the MSP airport to St. Peter, an alien concept to today's students.
I bumped into a few acquaintances, and had one person tell me he followed this blog as a "lurker" but never a commenter.  Another introduced himself as "pretty fundamentalist" and asked if my book would offend him.  I said it probably would since the plot line was based on conflict in the early church and characterized Paul and others from the Bible as real humans with passions and personal agendas, but he decided to take a chance and purchased a copy.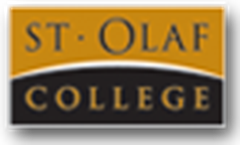 Next Saturday, I will be the guest of the St Olaf campus bookstore right here in Northfield.  These two campuses and the students remind me of what great assets our numerous, private liberal arts colleges are to the ELCA.  By the way, St Olaf defeated Gustavus on the football field 19-14 Saturday.
At ten this morning (Monday, September 27th, CDT), I will be a guest for an hour on Coffee with an author, an internet based radio show.  So, if you don't have anything better to do, tune in by clicking here.  I'm not quite sure how this all works, but you may have a chance to join the discussion.  Even if you don't join in this morning, I believe the radio interview will remain online for later listening.