Minnesota is home to more than ten thousand lakes; the Twins, Vikings, Wild, Timberwolves, and Gophers; five synods of ELCA Lutherans with nearly a thousand congregations; a Roman Catholic diocese in each corner of the state, one in the middle, and a metropolitan archdiocese; and the fictionalized Pastor Inqvist and Father Emil of Garrison Keillor's Lake Wobegon. 
And the largest Hindu Temple in North America.
St Olaf College of Northfield is one of four ELCA private colleges in Minnesota.  Not surprisingly, it has a robust religion department with over twenty professors plus another half dozen faculty emerti. 
And the chairman of the department is a Hindu.
Along with jello salads, tater tot hotdish, and sausage with kraut, Minnesotan's ethno-religious meals now include vegetarian curries.
Earlier this month, religion reporters from around the US were invited to tour the new 43,000 square foot Hindu temple located in the Twin Cities suburb of Maple Grove.  Thus, we see excellent articles about the temple and the Hindu faith popping up in major newspapers around the country.
Hinduism is the third largest religion in the world behind Christianity and Islam, but the vast majority of Hindus remain in their Indian homeland.  Barely a quarter of one percent of all Hindus reside in the United States, and most of them have arrived since 1965 following a change in US immigration law.
Christina Capecchi of the New York Times reported on the Temple's grand opening earlier this summer:
Perhaps the greatest diplomacy was needed among fellow Hindus, managing the tangled politics of religion. They come from various parts of India, where favored deities vary as widely as the dialects and cuisines. Temple planners decided to embrace that diversity, so they incorporated 21 hand-carved minitemples that replicate real Hindu temples across India into the building.
Reporter Julia Duin of the Washington Times reported:
As we walked about the place, we heard priests chant prayers in Sanskrit and saw offerings of grains, turmeric powder and betel nut leaves. In one shrine, we saw the goddess Saraswati sitting on a peacock; in another was Lord Krishna in pink silks. Ganesha, the elephant god, had the most plates of fruit offerings in front of him.
Michael Paulson of the Boston Globe blogged:
This temple is unlike anything you would see in India — there, temples are typically centered on a single deity, but because this is the U.S., where the Hindu community hails from all over India as well as the Hindu diaspora, the temple opted for a variety of shrines to meet the needs and devotional practices of a diverse group of worshipers. When we visited, there were families and individuals bringing offerings of food and money to various shrines, there were worshipers praying silently, touching their foreheads to the floor or lying fully prostrate for a while, there was a large group praying collectively as a priest performed a ritual at the shrine of Lord Vishnu, and there was a group of adults and children silently circling a group of statues intended to represent the planets.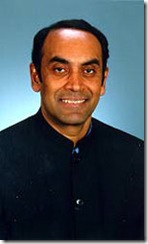 Following the tour, three Hindu scholars participated in a panel discussion, including Dr. Anant Rambachan, the chair of the religion department at St Olaf.  Dr Rambachan is of Indian ancestry via Trinidad.  Blogger Paulson moderated the panel, and he reported:
The biggest challenge, of course, is transmitting the faith from immigrants, most of whom grew up in a predominantly Hindu society, to their children, who are growing up in a predominantly Christian society. Temples are launching religious education programs, modeled after those in churches and synagogues, but Rambachan said there are other issues – for example, Hindus will have to decide what language to use for worship, and, he asked, "can we visualize English being a liturgical language for Hindus?" He called Hinduism "the least understood among American religious traditions,'' noting Judaism, Christianity and Islam which "are all suspicious about imaging the divine" and emphasize the oneness of God, whereas Hinduism offers a plethora of iconography and "celebrates a multiplicity of divine names and forms.''
Capecchi concluded:
"Even in India you don't have a temple like this," Ms. Chari [the Temple president] said. "But because all of us are immigrants who came here years ago, we were each yearning for our own parts of home."

Now the same place feels like home to many Hindus in the area.

"This is home — the sounds, the smells, the colors," said Vidya Subramani, 48, a banker who lives in Minnetonka.

A moment later, she cupped her hand above a flame to absorb Ganesha's divinity. In a year of layoffs and foreclosures, this temple is imperative, she said. "This gives you a sense of hope that a door will open," she said. "When you bring in good spirits, they will vibrate all around."