The Village of Arlington Heights began to take shape in the 1850's when a New York land speculator persuaded the railroad to build a terminal in the local farming community consisting of recent German immigrants.  The railroad allowed the farmers to ship their produce to the far-off city of Chicago, twenty-five miles to the south and east.  Originally the town of Dunston, the Village of Arlington Heights was incorporated in the 1880's.
Today, Arlington Heights boasts a population of 75,000,  a "Village" budget in excess of $60 million annually, and the railroad terminal is now a popular waypoint along a spoke of the "Metra" light rail that delivers commuters into the Chicago hub.  Downtown Arlington Heights consists of fine shops, restaurants, Yoga studios, theaters, high-rise luxury apartments and other indicators of an affluent community.  Several of you who sent well-wishes noted personal connections with this area.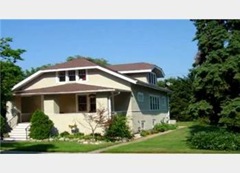 We have rented a century-old, four-bedroom (all small) house just a block away from downtown.  We can see the Metra trains pass by from our spacious porch.  I have set up my new office in a cheery sunroom that catches the morning sun and from which I can watch the teenagers next door play frisbee.  We have received welcoming gifts of chili, sweets, and salads from several of the neighbors who were pleased to learn that we hold a humorous disdain for our fellow Minnesotan, Michelle Bachmann.
Yesterday, we visited the 2,300 member Our Saviour's Lutheran Church just a few blocks up Arlington Heights Road.  I nudged my wife as Senior Pastor Dan Hoeger offered the morning announcements.
"I know him from somewhere," I said.
After the service, we confirmed that we had met a year ago at the Lutherans Concerned Convention at Augsburg College in Minneapolis.  Our Saviour's just concluded a congregational advisory survey in which 82% voted to authorize the pastors and the congregation to bless same-gender unions.
So, we're settling in.  We still have a few boxes to unpack, and I need to get untracked with my writing.  Several projects have languished in recent months, but now it's time.  Thanks to all who sent comments to this blog or private emails wishing us well in our new adventure.  I will be returning to host a series of retreats in Minnesota in upcoming weeks, and I hope to see many of you then.