In 1984, a new restaurant opened in the Cedar Riverside neighborhood of Minneapolis, between the west bank campus of the University of Minnesota and Augsburg, a private liberal arts college of the ELCA.  Restaurants come and go, and this new start was hardly noteworthy except that the goal was not to make money but to give it away, and they have succeeded beyond the founder's wildest imagination.  By the time that St. Martin's Table serves its final customers this December, 26 years after it first offered delicious, homemade vegetarian fare, it will have gifted over $700,000 to alleviate hunger locally and globally.
St. Martin's Table is an outreach ministry of the Community of St. Martin. It is a bookstore and restaurant open to the general public. St. Martin's Table strives to be a center for peacemaking and justice seeking. This focus springs from the Community's faith, centered in the life and teachings of Jesus, and so we seek to provide hospitality to all people in their journeys toward peace, justice and wholeness.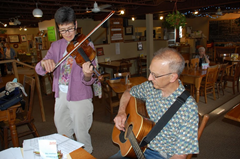 The existence of St. Martin's Table was one of those things that lay somewhere in the recesses of my mind.  I knew about it, but I didn't really know about it.  Thus, when I stopped in for lunch for the first time a month or so ago, my response was "why haven't I been here before" and "I can't wait to come back."  The homemade gazpacho and generous wedge of carrot cake were part of the attraction, but it was much more than that.
The food served is a celebration of God's gifts to us. To that end, St. Martin's Table serves vegetarian meals with and emphasis on locally grown and organic food. Volunteer servers not only contribute their time, but also contribute their tips to programs that alleviate hunger in the global community.

Conversation takes place not only around the table at noon, but also during programs centered on peacemaking, justice issues and community-building through the arts. St. Martin's Table is also available for study, worship, fellowship and special events for the wider community.

St. Martin's Table strives to be fiscally sound and to be a good steward of all resources, especially as they relate to the long-term vitality of the Table. As an alternative business, it is our priority to model a more just way to live and have that reflected in the relationships we cultivate. The Table strives to be a place of peace where creative visions for a world of justice are welcomed and nurtured.
And who is St. Martin, the namesake of the community and the restaurant/bookstore?
The restaurant/bookstore, like the ecumenical community, was named for five Martins who have been models of change, truth and resistance in the Christian faith:

Martin Luther, the 16th century reformer who taught the theology of the cross
Martin Luther King, Jr., for his leadership in nonviolent protest to end racism and injustice
Martin of Tours, a fourth century Roman soldier turned pacifist
Martin de Porres, a Spanish-Indian healer who served the poor of Peru in the 1600s
Martin Niemoeller, a German pastor imprisoned for his nonviolent resistance to the Nazis during World War II
On August 25th, I received an email that announced that The Table would serve its last meal this coming December.
It is with thankfulness for all of the hospitality that has been shown here for 26 years, and also with great sadness that we announce that St. Martin's Table will be closing in December, 2010.

Bookstore manager Kathleen Olsen encouraged people to continue to support The Table between now and Christmas. "We hope that our loyal clientele, in addition to those who have never been to The Table, will join us in the upcoming months for good food, good books, and good conversation. Help us celebrate a great 26 years!"
Drop in for lunch or leave a greeting on the Facebook page ( which lists the Thursday menu as "Soups: Creamy Curry Split Pea and Chilled Cucumber Yogurt followed by Cashew Carrot (cold). Spreads: Swiss Dill, Tofuna and Bunny Luv").