We pay homage today to a pair of clergy leaders in the LGBTQ movement for equality, inclusion, and respect.  To call them icons would be incorrect because that term implies a well-known public face, and these two were quiet crusaders, both of them straight allies.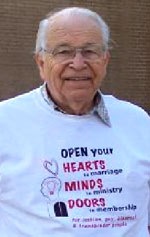 Seventy-five year old Paul Egertson, ELCA pastor and one-time bishop in California, died at his California home yesterday.  Lutherans Concerned North America (LCNA), the LGBTQ advocacy group within the ELCA , issued this statement honoring Bishop Egertson's memory:
While bishop of the ELCA Southwest California Synod, he participated in the 2001 ordination of Pastor Anita C. Hill of St. Paul-Reformation Lutheran Church, St. Paul, Minnesota.  For this act, he subsequently resigned his position as bishop, and tirelessly advocated for the policy change that finally occurred as a result of the decisions of the 2009 Churchwide Assembly.

Emily Eastwood, Executive Director, Lutherans Concerned, said, "Paul Egertson stood up for us and in opposition to the discrimination of the church against us when that was neither popular nor safe.  His witness to Christ's redemptive grace and his commitment to helping the church see the error of its position are a shining beacon of prophetic righteousness in the face of determined opposition – and he did it with grace and eloquence, as befits a follower of Christ.  He was a friend and mentor — always available, with words of calming wisdom.  He made a profound difference.  He will be missed."
Under a blog post titled We'll Take it From Here, blogger Casey, an ELCA seminarian, wrote of being a young student of Egertson without knowing his history.  She regrets her sophomoric attitude then but now treasures his advocacy with the benefit of a maturing, retrospective point of view.
But as I continued in the Religion department and spent time with professors in discussion outside of the classroom, I found that this man was interesting.

He was a progressive voice in a generation that would not hear him. As the generation that has heard him, it is our responsibility to go forth into the ELCA that he has helped to shape, and to continue to fight along the lines he laid down. I am proud to have been a student of his, and to be joining the ranks of ordained clergy in the ELCA, in order to effect the same kind of change.
Of course, the ELCA and the Episcopal Church are currently in the forefront of progressive Christian denominations that have moved toward full inclusion of the LGBTQ community.  A generation earlier, the United Church of Christ (UCC) became the first mainstream Christian denomination to openly affirm their gay members.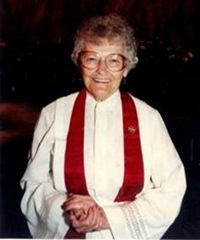 But even before that, a Christian denomination was formed expressly for the purpose of ordaining and celebrating gay inclusivity.  This denomination is known as Metropolitan Community Churches, (MCC), and the second person we honor today is Pastor June Norris who died this week at the age of eighty-eight.  Norris was the first straight person and second woman to be ordained to the ministry of MCC.  From a San Diego Newspaper:
She grew up in a Baptist family in Illinois and married at age 15. She had three children by the time she was 20, divorced after 28 years of marriage and moved to California to seek a new life.

Friends and family said she was a soft-spoken, tenderhearted crusader for equality. "She was nonjudgmental and extremely compassionate," said her sister, Ruth Mahan. "She accepted people as they were."

Nephew Ted Sweet, who introduced her to MCC, said he and his aunt agreed to attend her church on Saturday and go to his church on Sunday. "I took her to (MCC) and she never left. The people were so receptive to her and welcomed her," Sweet said. Rev. Norris would later say she felt called to the ministry at the L.A. church.

Sweet said Rev. Norris had a gift for helping people. "She had one of the most soothing voices in the world. No matter how upset I was, I just had to talk to her on the phone and I'd feel better," he said. "She just had a way of communicating that took all the pain and hurt away."
We conclude with the sentiment expressed by blogger Casey.   With thanks for these early leaders, Casey promises, "We'll take it from here".