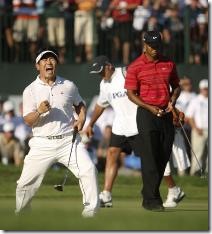 After a weekend of wind, rain, Tiger Woods, and Y.E. Yang, today's forecast is for sunny, mild, Uff das, and frequent recipe exchanges for Tater Tot hot dish.  As the golfers move out, the Lutherans move in.  ELCA replaces PGA.
I live 30 miles south of the metro in Northfield, Mn (home to St. Olaf and and four ELCA congregations), and I'll be heading toward the Minneapolis Convention Center shortly to register as an Assembly guest and also to sign in as a volunteer for Goodsoil (LGBT friendly organizers).
Watch this spot for frequent updates or follow on Twitter.  All convention tweets will be identified by #CWA09 and all Goodsoil tweets by #Goodsoil09.
Here is a link to previous posts on this blog about the ELCA 2009 Churchwide Assembly.