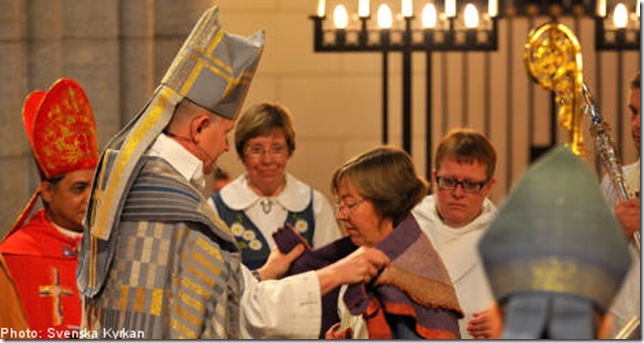 Yesterday, Sunday the 8th of November, Eva Brunne was consecrated as the Bishop of Stockholm during an ordination ceremony at the Cathedral of Uppsala.   Swedish Archbishop Anders Wejryd conducted the ordination.  Not only was the ceremony historic because Brunne is a lesbian in a committed relationship with a female pastor (they are parents of a three year old child), but also because a second female was consecrated as bishop at the same time.  Tuulikki Koivunen Bylund was ordained  as Bishop of Härnösand in northern Sweden
The photo above is taken from a brief news account in the Local, an English language Swedish newspaper, and the photo below is of Bishop Bylund, copied from a Dutch forum, which quoted my Saturday blog post in its entirety.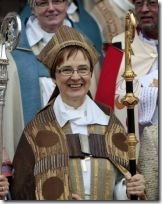 For Brunne, her sexual orientation is a non-issue in her role as bishop, except for its symbolism:
Yes, it is important to many people who also live with a same-sex partner that a bishop can also do that. But it's not a big issue at home in Stockholm. I have yet to be in a workplace where it has been an "issue."

There have been those who've tried to make it difficult for me, but I have always lived openly. Had I chosen to hide parts of my life I probably would have had problems. As a bishop you must be allowed to be a whole person 24 hours a day, otherwise I would never have coped to be who I am and function the way I do. 
Radio Netherlands reports that the King and Queen of Sweden attended the ceremony.