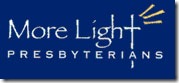 More Light Presbyterians is an LGBT friendly organization.  Beginning September 4th (Labor Day Weekend), their National Conference will begin in Nashville.
The National Welcoming and Affirming Conference – God's Whole Family! – is almost ready to go.  A true family reunion set for Labor Day week-end in Nashville, TN!  We've got an amazing line-up of programs and speakers, as you can see from the Conference Overview below.  All we need now is YOU!
A conference overview and registration process is available online.
The organization also coordinates Presbyterian congregations that choose to be welcoming to the LGBT community.
If you've looked through our directory of welcoming churches, you've noticed that we have different letters designating different types of churches. "H" means that the church has affirmed a pro-LGBT hospitality statement, "D" means that the church has passed a dissent statement against the PCUSA's anti-LGBT policies, etc. The capital "M" is for More Light churches – churches whose sessions have formally voted to endorse the mission statement of MLP and declare themselves a More Light congregation.
The Presbyterian Church (U.S.A.), with denominational offices in Louisville, Kentucky, has approximately 2.3 million members, more than 10,000 congregations and 14,000 ordained and active ministers.  Like other mainline Protestant denominations, the Presbyterians wrestle with issues of gay marriage and gay ordination.  Present Presbyterian policy is conservative, but there is momentum toward change.  Pastor John Shuck reports on his blog, quoting the More Light moderator, Michael Adee:
The trends are clear: the Presbyterian Church (USA) is remarkably close to removing the barriers so that Lesbian, Gay, Bisexual and Transgender people can faithfully answer God's call to serve. The witness of this ratification process across the country indicates without a doubt that a growing number of Presbyterians believe that LGBT persons and their families should have the same opportunities and responsibilities of full participation, membership and ordained service in our Church offered to their heterosexual sisters and brothers.
The next general assembly of Presbyterians USA will be in July, 2010 in Minneapolis.  Since the ELCA is scheduled for historic votes on gay clergy and gay marriage in a couple of weeks in Minneapolis, the City of Lakes could conceivably be the venue for two church changing assemblies.  At least we can hope and pray.