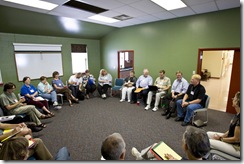 More Light Presbyterians, an LGBT friendly advocacy group, had its "Celebrating God's Whole Family" get together last weekend in Nashville.  Activist blogger, Pastor John Shuck, was there as a workshop presenter.  Check his Shuck and Jive blog post for his report.
This photo of a discussion circle, and many other photos from the event, may be viewed here.
Next summer, the Presbyterian Church, USA (PCUSA) will meet for its national convention in Minneapolis.  LGBT issues will be on the agenda.  Could Minneapolis be the scene of another breakthrough as with the ELCA convention of 2009?
God willing.