The recent actions of the ELCA council revamping ministry policies and welcoming ELM clergy into the ELCA were natural consequences of CWA09–hardly surprising but welcome nevertheless.  For those of us in the ELCA, as well as the trio of dissident organizations (LCMC, CORE, & Wordalone), the news and the issues behind the news are in some ways old hat.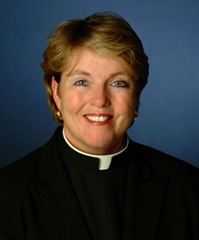 Not so with a national news article appearing on the Huffington Post and the hundreds of comments that follow.  The article was written by Rev Dr. Cindi Love, the newly appointed executive director of Soulforce (an LGBTQ advocacy group).  Except for the rather notably understated reference to CWA09 as merely "discussions", the article is pretty straight forward.  Many of the comments that follow the article are rants from trolls.
Yet, I commend the article and the comments because it affords us a glimpse into the way others view Lutherans.  Hear the words of Dr. Love:
The ELCA has served as the beta test site for a process through which a very traditional faith community can reverse its thinking and policies. They will continue to push the envelope and all of us will learn from their experiences. Other denominational leaders and congregants will be glad that they tested the waters first.
The ELCA has conducted itself with grace and dignity, and many of us are longing for some of that type of public civility. Their example is going to make people within other embattled denominations long for a better process within their own communities. The ELCA members didn't wage war in public with one another. There was no public outcry that diminished everyone while they worked their way through a quarter century of discussion.
One critical comment pointed out that Love overlooks the pain of dissension felt in some congregations and some geographical areas such as Montana:
Unfortunately the ELCA churches of Montana are going through tremendous upheaval over this issue- yes, they are arguing in public, friendships of many years are dissolving as people refuse to talk to one another, or yell at each other, some churches have stopped donating to the ELCA altogether etc. Most every church is taking a vote on whether to leave the ELCA or not. This is the situation in Montana, and it's not pretty or quiet- and readers need to know that tremendous pain is being caused by this process.
Other comments contain plenty of judgment and condemnation:
ELCA – Another Apostate Denomination … God will be their judge. Woe to them when that time comes.
But, there is a refreshing new awareness from many that the ELCA may be a welcoming place.  There is a recurring theme of agnostics and wounded former Christians taking a second look.  Here is a sampling:
So Lutherans, I applaud your decision to welcome ALL your children back into your pews. I hope other religious leaders will follow your example.
I'm confused, but for the most part happy. As a proud agnostic, I have issues with people's struggle to be accepted by a segment of the population that blatantly thought less of them. However, I wholeheartedly embrace the decision by the church as something loving and progressive.
I am not even a Christian, but nonetheless, throughout my life, I have revered the message of Christ – one of love and tolerance and inclusion. And that's what the Lutherans did with this declaration – they embraced the loving spirit of Christ regardless of the words (and translated, to boot!) in the book … Jesus would be proud of them. They are walking with the spirit in love and acceptance. Exactly the way Jesus intended.
What is so striking to me about the Lutheran journey toward inclusion is the way that, in recent years especially, they have considered their ministry to the LGBTQ community. When asked, what is the pastoral message to the LGBTQ, they have had an answer. All too often, our congregations/denominations reveal that they have no response to the pastoral needs of the LGBTQ community. Kudos to the ELCA! May we all follow their example.
Some straight people equate homosexuality with one thing SEX. Why not try just once to look at us as people. You are so hung up on the sexual aspect you can't see the forest for the trees. Stop using the bible to do your dirty work and stop hiding behind it. Do some research or are you afraid to learn we put our socks on one foot at a time just like you. I imagine many bibles are only dusted off when needed as an anti gay weapon because you would not be spewing this garbage if you read it.
Congratulations, ECLA, and a bit of applause from one of the 'neighbors.' 🙂
You've helped make the world a little less divided tonight, …whatever some may say, less hate in the world can't be bad.  Blessed be.
When it comes to Christians, the Lutherans are probably the most tolerant. They believe in grace.
Once I read this, as a former Mormon but (continuing) homosexual man, I have spent the afternoon researching the Lutheran-organized charities in my neighborhood. I am thrilled that there is finally a faith-based organization I can believe in (even though it has specific tenets with which I do not agree.) I am excited that I can volunteer with or donate to their charity organizations without the underlying fear that the fruits of my good intentions will go toward encouraging further discrimination against me, my husband and my fellow gay brothers and sisters.
There was a time when this news would have meant a lot to me personally. I still think it's great, particularly since the influence of the church is so huge in the U.S. I'm happy that a major mainline denomination has taken this step and hope it will lead others (like the milk toast Methodists) to finally do the same. For me personally, however, this is too little to late. I gave up on the church long ago partly because of it's stance on homosexuality, among a host of other nonsensical stances. I now consider myself an agnostic more inclined to support secular humanism that some religious superstition and hierarchy. Still – congratulations to those still within the church who have worked so hard for this victory against prejudice and ignorance.
Even as a non-believer, I find this to be great news. Thank you, Lutherans. Maybe some believers actually are good people.