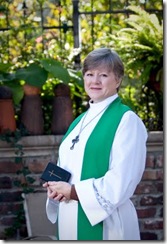 The Episcopal diocese of Fort Worth will soon ordain its second woman as priest.  On December 5th, Deacon ClayOla Gitane, will be ordained by two bishops, including a female from Washington state where Gitane pursued her call to the priesthood.
According to the blog, Desert's Child:
[Gitane] is one of more than fifteen women who over the years have had to leave the diocese in order to be ordained priests because all the bishops of Fort Worth prior to 2009 opposed the ordination of women. With God's help, she will be the last.
Meanwhile, the Rt Rev M. Thomas Shaw, Bishop of the Episcopal diocese of Massachusetts, has issued a statement allowing priests of his diocese to conduct same gender marriages (which is allowed by the laws of the state, er Commonwealth, of Massachusetts).  According to the Street Prophets blog, Bishop Shaw made the following statement:
Christian marriage is a sacramental rite that has evolved in the church, and while it is not necessary for all, it must be open to all as a means of grace and sustenance to our Christian hope.

I believe this because the truth of it is in our midst, revealed again and again by the many marriages—of women and men, and of persons of the same gender—that are characterized, just as our church expects, by fidelity, monogamy, mutual affection and respect, and the holy love which enables spouses to see in one another the image of God.
Finally, popular religion columnist Julia Duin of the Washington Times reports that the Episcopal diocese of Los Angeles may elect a lesbian bishop at its upcoming convention this weekend (the recent convention in the Minnesota Diocese also had a lesbian candidate for bishop, but she was not elected).
[E]ver since the denomination voted last summer to allow more gay bishops, there's been this informal race among dioceses to see who can be first.

Clergy in the Los Angeles diocese tell me that she's got a decent chance because her executive experience in Baltimore assisting the bishop and mentoring clergy ranks her above the other five candidates for the two jobs.
Sounds like the slogan of Integrity USA, "All the sacraments for all the baptized" is being taken seriously by the Episcopalians.