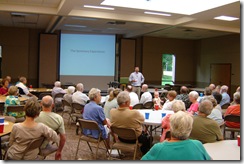 Fresh from the mound of the St Paul Saints baseball team and soon to the pulpit of Northfield's Bethel Lutheran Church, Pastor Charlie shared root beer floats with Bethelites Wednesday night.  An estimated gathering of 75-100 persons listened to Charlie discuss his seminary experience and later greeted Charlie, his wife Becky, and their baby daughter, Lucy, who was clearly more popular than her parents.
Once a star pitcher for St Olaf, Charlie has continued his love of baseball as a record-setting hurler for the St Paul Saints minor league team.  Charlie recently graduated from Luther Seminary in St Paul, and he will join the Bethel team this fall as associate Pastor.  During seminary, Charlie did his clinical, pastoral training at Northfield Retirement Community.
Charlie and Becky met at St Olaf.  Becky also excelled athletically as an All-American track star, five time MIAC conference champion, and three time St Olaf track team MVP.  She puts her degree in Spanish to use as a high school Spanish teacher, and she has been an assistant track coach at St. Kates.  She is starting a cottage business featuring OwlyBaby handcrafted clothing.
The get together was part of the What's Brewing at Bethel? summertime socials arranged by Pastoral Minister, Pam Santerre.