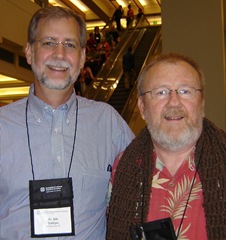 Bill Gafkjen, my first cousin and eldest of six sons of my mom's sister Joanie,  was recruited to pitch for St Olaf by coach Jim Dimick out of Colombia Heights High School in the mid '70s.  After one year, Bill met with the coach to tell him he had decided to quit playing baseball to concentrate on studies.  "We both cried," Bill said.  Bill also said his Gafkjen kin were greatly disappointed based upon their tradition of town team ball on the western prairies of Minnesota in the Willmar area.
Even though he only spent one year on the team, Bill considers coach Dimick to have been his mentor, and he asked me to extend his personal condolences to the coach following the recent death of his beloved wife, Nan.  Coach Dimick and I both belong to Bethel Lutheran Church of Northfield.  Yesterday I did so, along with a big hug, as I reported to coach that one of his boys had just been elected to become Bishop of the Indiana-Kentucky Synod of the ELCA.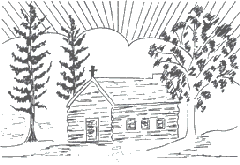 Bill was baptized in our family's home congregation, Gethsemane Lutheran of Upsala, the same church where our mothers grew up, the same church where Grandma Hilma and all her siblings were baptized and confirmed, and the same church where our great-grandparents were immigrant pioneers and amongst the earliest members of the old Sandvikens Swedish Evangelical Lutheran Congregation.  Bill's first name and my middle name are based in part in remembrance of great-grandfather Wilhelm who became surrogate father to his six granddaughters, Hilma's six girls, when Hilma's husband Olaf was killed in a car-train collision in 1936.
Bill's mom died of breast cancer over 35 years ago, and my mom died of ALS about 6 years ago.  The other four sisters are alive and well, together with Bill's dad, Guffy, and five brothers, and over a dozen first cousins (we lost cousin Rick to a car accident).  I speak for the whole family in expressing our pride and extending our prayers and well-wishes for cousin Billy as he answers the call to be the pastor to the pastors of the 220 congregations and 71,000 members of the Indiana-Kentucky Synod of the ELCA.
The ELCA news release is reprinted below in its entirety:
William Gafkjen Elected Bishop of ELCA Indiana-Kentucky Synod

     COVINGTON, Ky. (ELCA) — The Rev. William O. "Bill" Gafkjen (GUFF-ee-ehn) was elected June 5 to a six-year term as bishop of the Indiana-Kentucky Synod of the Evangelical Lutheran Church in America (ELCA) at the synod assembly in Covington, Ky. 
     Gafkjen, 52, assistant to the bishop of the Indiana-Kentucky Synod, was elected on the fifth ballot for bishop with 301 votes to 168 votes for the Rev. Steven L. Schwier, Christ the King Lutheran Church, South Bend, Ind.  The Rev. Michael R. Brown, Risen Lord Lutheran Church, Bargersville, Ind., was also a nominee on the fourth ballot for bishop.  There were 56 names on the first or nominating ballot. Gafkjen led on all ballots.
     The Rev. Mark S. Hanson, ELCA presiding bishop, presided at the election.
     Gafkjen will succeed the Rev. James R. Stuck, the synod's bishop for 12 years, who announced he will retire when his term ends Aug. 31.  The synod has made tentative plans for the bishop-elect's installation to be held at St. Luke's United Methodist Church, Indianapolis, on Sept. 11, Gafkjen said.
     In an interview with the ELCA News Service, Gafkjen said his election brought to him "a sense of humility that's inspired with the sort of trust that comes with this call."
     Along with a commitment to the synod, his new call "is an invitation to walk alongside people in a difficult time to try to figure out what it means to be the church in mission.  It's an opportunity to work with some great people and to build on the foundation that Bishop Stuck built in this synod," Gafkjen said.
     Among the priorities he sees for the synod, Gafkjen said the synod needs to assist members to have public conversations together in a way that honors differences.  He also named priorities such as staying focused on mission in the midst of financial challenges and stewardship concerns, and building connections and communication across the synod.
     Gafkjen has served with Stuck since 2002.  "He is a man with a deep pastoral heart who is centered in prayer.  He has a deep commitment to sharing the good news," the bishop-elect said.
     Born in Beausejour, Manitoba, Canada, Gafkjen earned a bachelor's degree from St. Olaf College, Northfield, Minn. He earned a master of divinity from Luther Seminary, St. Paul, Minn., and a doctorate from Columbia Theological Seminary in Decatur, Ga.  St. Olaf College is one of 27 ELCA colleges and universities; Luther Seminary is one of eight ELCA seminaries.
     Following his ordination in 1985, Gafkjen served as pastor of Grace Lutheran Church, Mora, Minn.; Holy Trinity Lutheran Church, Niles, Mich.; Lutheran Campus Ministries at Pennsylvania State University, State College, Pa.; Evangelical Lutheran Church, Duncanville, Pa.; and Christ the King Lutheran Church, South Bend, Ind.
     Gafkjen and his wife Janet are the parents of two children, Nathan and Kira.  They reside in Fishers, Ind.
     The Indiana-Kentucky Synod is 71,097 baptized members in 220 congregations in Indiana and Kentucky.  The synod office is in Indianapolis.