This is essentially a reprint of my Stonewall post from a year ago.  The response to the police raid on Stonewall, a gay bar in Greenwich Village, New York City, June 28, 1969 marked the beginning of the gay rights movement. For many, progress toward full equality and inclusion of LGBT folks seems slow; yet, for one like me who thinks like a historian, the progress since 1969 has been remarkable, and the same is true for the advances since this post first appeared.
In the last year, two major, mainline protestant denominations took significant steps toward full inclusion of LGBT folk.  Following the encouragement of Integrity (an Episcopal LGBT advocacy group), the Episcopalians now offer "all the sacraments to all the baptized".  In practical effect, this means that the episcopate is fully open to gays and lesbians, and the year saw the election and confirmation of suffragan bishop Mary Glasspool, a partnered lesbian, to the diocese of Los Angeles.  My own Evangelical Lutheran Church in America (ELCA) committed itself to recognize and affirm publicly accountable, monogamous, life-long same gender relationships and to allow persons in such relationships to be fully rostered as ordained clergy.  There were also advances in Judaism, which already boasted an enviable record of inclusivity.
2009 & 2010 saw advances in LGBT legal and political rights: gay marriage became the law of Iowa, New Hampshire, Vermont, and Washington D.C.;  partners of gay federal employees received expanded benefits; and the military policy of "Don't Ask, Don't tell" appears to be in its last days.  What will the next year bring?
The following is my post from a year ago under the heading "June 28, 1969: Where were you?"
Many of you probably weren't born, so I guess this is a question for the baby boomers, like me. But, I encourage the young'uns to read along, anyway, to get a better understanding of who and where we are this Sunday, the fortieth anniversary of Stonewall.
Here's my answer. I had just turned 21 and had just finished my army infantry training in the heat and amongst the snakes and spiders of Fort Polk, Louisiana, "Fort Puke, the arm pit of America," we called it.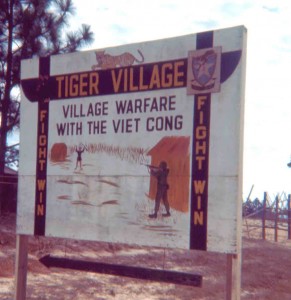 "If'n one of them coral snakes bites ya, here's the proper military procedure," droned the drill sergeant. "Spread yer legs to a comfortable military stance, put yer hands on yer knees, bend down at the waist as far as you kin, and kiss yer sweet ass goodbye."
A few weeks earlier, over Memorial Day weekend, our battalion received back to back three day passes, a rare treat toward the end of our training. We were all headed to Viet Nam to become "grunts", anyway, might as well allow us a good time. My new girlfriend of less than six months drove down from Minnesota — along with my parents, brother Mike, and his girlfriend — and we all camped out at Aunt Carol's place in nearby Lake Charles. In front of a sultry red sun of dusk, under the bearded Spanish moss that hung from the live oaks that leaned over a dusty country lane, I had proposed, but the girlfriend had turned me down.
But now, three weeks later, I was back in Minnesota on a 30 day leave before departing for my one year tour of duty as an infantryman in Viet Nam, and the girlfriend had finally consented under my relentless urgings, and she allowed me to purchase an engagement ring. I needed that lifeline, that sense of commitment and belonging, that sense that there was a future beyond the jungles of Southeast Asia, and her assent to one day becoming my bride gave me that grounding. Lynn still wears that ring, today. I didn't know then what a privilege it was to ask the one I loved to be for me; to hold my hand and keep my heart close; to send and receive trite, and silly, and melancholy missives; and to wait and to be there when I returned.
Bobby Dylan was singing and saying that the times were a'changing, but it wasn't clear in what direction. Tricky Dick was in the White House. Dion was lamenting the losses of Abraham, Martin, and John: "but it seems the good, they die young," and in my narcissism I knew the song was about me. I wasn't much concerned about what was going on in Greenwich Village, NYC.
If there were any gay people in my life then, I didn't know it. Oh, there was elderly Emil, a hapless figure who would buy the small town boys cigarettes, but we all knew not to go behind any buildings with him. Maybe some did, I don't know. I suppose somebody had to be the source of the giggling about the comic old man. In hindsight, I know that an older cousin later died in alcoholic squalor, never fully able to come to grips with who he was, and I have a younger cousin who thrives in a long term relationship with Robert. Perhaps there is symbolism in the differences between the older and the younger. In a reunion with my younger cousin a few years ago, he laughingly recounted how he loved to come and spend time with us in Minnesota and with dear old Grandma Olga because she allowed him to dress up in girl's clothes.
Queers were deviates, so said the medical and psychological establishment. Fags were outlaws and security risks, so said the FBI, State Department, US Postal Service, as well as state and local law enforcement agencies. Homosexuals were sinners who had chosen the wrong path and needed repentance, so said the word from Christian pulpits. And these others, whoever they were, were mostly invisible:
a secret legion of people, known of but discounted, ignored, laughed at or despised. And like the holders of a secret, they had an advantage which was a disadvantage, too, and which was true of no other minority group in the United States. They were invisible. Unlike African Americans, women, Native Americans, Jews, the Irish, Italians, Asians, Hispanics, or any other cultural group which struggled for respect and equal rights, homosexuals had no physical or cultural markings, no language or dialect which could identify them to each other, or to anyone else. Wikipedia, the Stonewall riots.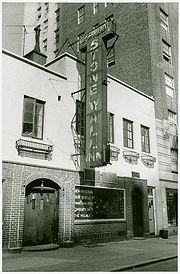 When the eight police officers knocked on the Stonewall door at 1:20 a.m., June 28, 1969, and announced "Police! We're taking the place!", they didn't know they were about to make history, any more than the bus driver who ordered Rosa Parks to surrender her seat on the Montgomery, Alabama bus to a white passenger 14 years earlier. Spurred by the successes of the civil rights movement, the bra burning feminists, and the college students protesting the war, the response of the gay community of Greenwich Village to the routine police raid on the Stonewell Bar of Christopher Street, said Dylan was right, the times were a'changin'.
We all had a collective feeling like we'd had enough of this kind of shit. It wasn't anything tangible anybody said to anyone else, it was just kind of like everything over the years had come to a head on that one particular night in the one particular place, and it was not an organized demonstration…. Everyone in the crowd felt that we were never going to go back. It was like the last straw. It was time to reclaim something that had always been taken from us…. All kinds of people, all different reasons, but mostly it was total outrage, anger, sorrow, everything combined, and everything just kind of ran its course. It was the police who were doing most of the destruction. We were really trying to get back in and break free. And we felt that we had freedom at last, or freedom to at least show that we demanded freedom. We weren't going to be walking meekly in the night and letting them shove us around—it's like standing your ground for the first time and in a really strong way, and that's what caught the police by surprise. There was something in the air, freedom a long time overdue, and we're going to fight for it. It took different forms, but the bottom line was, we weren't going to go away. And we didn't.

Michael Fader quoted in the same Wikipedia article.
Will the occasion be noted from any pulpits this Sunday? Some, I hope, but only a few, I fear. Probably not in my own church, even though I know my pastor is willing, but the congregation isn't ready. Not yet. But, someday, and sooner than you think. It's blowin' in the wind.