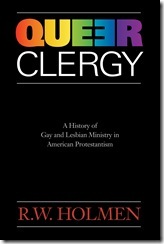 We are now at thirty days and counting until Queer Clergy: A History of Gay and Lesbian Ministry in American Protestantism is launched by Pilgrim Press. If you have paid attention to earlier posts, you are aware that this book is a chronicle of the journey to full LGBT inclusion within the mainline denominations, including the UCC, the Episcopal Church, the ELCA, the PC(USA), and the UMC. The narrative recounts the pioneer journey along twisted paths that have recently reached the downslopes, and the churches have accelerated toward full inclusion.
The book is already available for pre-sale through online bookstores. The list price is $27.00, but the online vendors offer discounts; for instance, Amazon.com is currently offering the book for $24.30 plus shipping. The book is also available for pre-orders through the publisher, Pilgrim Press, and Cokesbury, the bookstore of several of the featured denominations.
As the author, I will offer autographed and personally inscribed copies for pre-order. The price will be $24.00 plus shipping with discounts for multiple copies. Use the order form to the right to pay by credit card. Or, simply send me an email, and I will send you an invoice for payment by check. Direct email correspondence is probably the best method for larger orders. Of course, I will need a mailing address and the name(s) of the person(s) to whom the book should be inscribed.