Forty-five years ago this month, I was in transition. I was leaving a line company of infantry in Vietnam where we slept under the stars in the mud and amongst the critters for the life of a LRRP (Long Range Reconnaissance Patrol) that would offer a barracks and hot meals but also hair-raising scouting missions into hostile territory. Even after this lengthy passage of time, I'm not sure of the wisdom of that decision, but it was what it was.
This spring, during a California book tour, I visited my best friend from those long-ago days, and we discovered that time has stood still for our relationship–we jumped straightaway into discussion of religion, politics, sex, and all the philosophical musings and questioning that we first experienced as young men on late nights in the barracks as the sun was setting on the tumultuous sixties.
A few years ago, I wrote several short stories based upon my army experience–some of you may have read the compilation entitled Prowl— and my recent visit with Gary inspired me to finish that project. Thus, I have edited and revised those stories, woven them together, and added some new material. All this is to say that I am pleased to announce that Gonna Stick My Sword in the Golden Sand: A Vietnam Soldier's Story has just been released.
The title comes from a stanza of the gospel traditional, Down by the Riverside, with its refrain–"Ain't gonna study war no more." I would like to think that there are echoes of earlier classics of war fiction. Like The Red Badge of Courage, Golden Sand recreates the fear of the soldier facing battle; like All Quiet on the Western Front, Golden Sand confronts the banality of war for the weary soldier.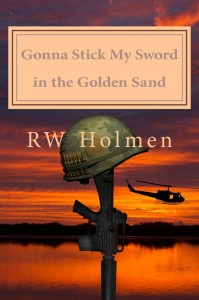 Golden Sand is a bold, dark, and intense retelling of the Vietnam experience through the eyes of an army scout, the point man on a camouflaged and face-painted four-man LRRP team inserted by helicopter into remote and unfriendly territory to search for "Charlie," the North Vietnamese soldiers who travelled the mountain gullies of the Ho Chi Minh trail. Golden Sand is less about patriotism and heroism than about the gut-wrenching reality for the Vietnam combat soldiers who are celebrated for simply doing their best to get by, not as superheroes, but as young men who often acted heroically but sometimes foolishly in circumstances not of their own choosing. One reviewer of an earlier short story commented, "The bond and the folly of immortal combat ring loud and clear from the page, and the story's told with all the realism, language and pathos of experience." The mood of Golden Sand is dark and somber rather than triumphalistic: a hauntingly honest and brutally true retelling rather than a glorification of the Vietnam experience.
Others commented after reading the short stories:
Gripping stories, unquestionably authentic, well written.

You read along on everyday books, then open one of these up and its like being smacked in the head. They just open up and tell it to you like it is. I love it.

The tension in the individual stories leaps off the page but the author manages an injection of black humour.

This story is a page-turner, the reader will not be left bored or yawning.

Characters and place come to life with the words, dialog is pitch perfect, and there are haunting comments I'll remember long after the story's done.
Click here if you'd like an autographed copy, or go to Amazon.com for either a print paperback or eBook. For $0.99, you can download an individual chapter on Amazon to check it out. Here's the list of chapter titles:
Eleven Bravo
Humping
Here Comes Charlie
Cat Quiet
Whiskey in the Rain
Chasing After Wind
Elijah Fire
Donut Dollies
Down by the Riverside