Without researching actual statistics, I doubt whether the percentage of native Americans within any Lutheran denomination is significant.  Although the ELCA has general goals for minority membership, the reality remains that most of us are descended from northern  European immigrants.  The reasons are primarily historical; when our ancestors arrived to make America their new home, they were not here as missionaries, and their communities remained insular.  My home congregation in Upsala, Minnesota, formed by Swedes in the 1880's, continued with services in the language of the homeland until the 1920's.  Even the small pockets of Danes in the neighborhood were largely outsiders.  When my grandfather Julius (the son of Swedish immigrants, and the youngest, rebellious sibling) married grandmother Olga (daughter of Danish immigrants) around the time of WWI, it was a mixed marriage.
Not so with Roman Catholics and Anglicans who came to the midwest first as missionaries to native Americans, and thus there are vestigial pockets of Catholic and Anglican native Americans.  This was especially obvious to me as I attended several Episcopal Diocesan conventions this fall.  In the Minnesota delegation and the northern Wisconsin Diocese of Fond du Lac, the Ojibwe lay and clergy presence was significant.  Two years ago, an Ojibwe priest was a finalist for the office of presiding Bishop for the Minnesota diocese.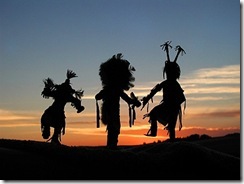 To what extent should native American cultural and religious heritage be reflected in their Christian religious practices?  Earlier this fall, I attended a weekend religious retreat consisting of mostly Lutherans.  A young man, a native American from Minneapolis, who had been raised Lutheran by his adoptive parents, was asked to offer a prayer.  He did so with a native American chant, which I found refreshing and spiritual, but I wondered how others received it.  No one said anything.
Yesterday's Star Tribune newspaper (the leading Minnesota daily) contained an article about a small Roman Catholic congregation located within the native American community of Minneapolis whose members are nearly all native American.  Seems the local archdiocese is coming down hard on certain of their rituals:
Buffalo hide adorns the altar. Sage is burned to help cleanse the heart, soul and mind. Ojibwe and Lakota languages are used in many of the prayers and songs. Traditional Indian elements like these have been part of the worship service for decades at the Church of Gichitwaa Kateri in Minneapolis, the only Twin Cities Catholic parish with a predominantly Indian congregation.

Founded in 1975, Gichitwaa Kateri has added Indian elements to the Catholic ceremony for nearly two decades. A lodge made of willow, structured like a dome-shaped Ojibwe wigwam, contains a bundle that holds sacred things, including the Eucharist. Traditional Ojibwe medicines such as tobacco, cedar, sage and sweet grass are used as regular parts of the Sunday Eucharist. Drums and prayers and songs in Ojibwe and Lakota are also prominent.

The future use of Indian practices, however, is being questioned by the Archdiocese of St. Paul and Minneapolis, which temporarily suspended mass at the church last month after conflict arose over the use of specialized wine.
The congregation had been using mustum, a grape juice with minimal fermentation, as part of the Eucharist, the Sacrament of Holy Communion.  Not only does mustum have linkages to native American culture, it also is safe for the numerous recovering alcoholics within the congregation.  Not good enough, says the archdiocese, and mass has been suspended at the congregation.
Maureen Headbird, 54, a church trustee, said the nearly 100 members of the tight-knit parish would be greatly saddened and disappointed if their church lost its distinctive elements, because they are an important part of their Indian heritage.

"We want to make sure our community stays the way it is," said Headbird, who is Indian and was raised Catholic. "When you come to our parish, you really have to have an open mind to see what we do. Sometimes that doesn't work out for everybody."