On Monday, August 17th, the ELCA 2009 Churchwide assembly will convene at the Minneapolis Convention Center and will continue through the week.  According to the latest ELCA statistics, there will be 1,037 voting members chosen at 65 regional synod assemblies earlier this year.  Roughly 39% of the electorate will be ordained clergy, and 61% will be laity, and they all join together as a single, unicameral legislative body. 
There will be worship, workshops, hearings, and, of course, the plenary sessions in which the voting members will conduct the business of the ELCA.  According to the polity of the ELCA, these biennial assemblies are the ultimate legislative authority and here is where the rubber meets the road.  Social statements, administrative actions, Council of Bishops proceedings, and all other official, semi-official, and auxiliary functions of the ELCA are subject to Churchwide policies determined by the biennial assemblies.
Here is a list of the principal items of business that will come before the assembly this year.
"Book of Faith": Lutherans Read the Bible
Budget
Evangelizing Congregations
Lutheran Malaria Initiative
Middle East Strategy
Ministry Policies Recommendation
Proposed Social Statement on Human Sexuality
Full-Communion Agreement with The United Methodist Church
Without question, the Sexuality Statement and resolutions pertaining to LGBT relationships will be the primary focus because, if adopted, the ELCA will become the largest religious denomination in the US or anywhere in the world to allow the ordination of persons in same-gender relationships and to allow local congregations to bless such relationships (gay clergy and gay marriage). 
As we come to this potentially historic moment, it is appropriate to look back at the history of the ELCA vis a vis LGBT issues.
Already the two largest Lutheran denominations in America, the Lutheran Church in America and American Lutheran Church (along with smaller Lutheran bodies) merged to form the Evangelical Lutheran Church of America (ELCA) in 1987.  The first test of ELCA policy regarding gay clergy came quickly in San Francisco.
In 1988, Jeff Johnson received his Master of Divinity degree from Pacific Lutheran Theological Seminary.  Following graduation, he worked for Lutheran Social Services of Northern California, dealing with the exploding HIV/AIDS epidemic.  Then, he received a call to the ordained ministry from First United Lutheran Church of San Francisco, but he was ineligible according to the ELCA policy that required a pledge of life-long celibacy from gay and lesbian pastors.
Nevertheless and despite dour warnings from the synod bishop, "Pastor Johnson [along with a lesbian couple, Ruth Frost and Phyllis Zillhart, who were called to St Francis Lutheran of San Francisco] was ordained extra ordinem on January 20, 1990 at a service at historic St. Paulus Lutheran Church in San Francisco that was attended by over 1000 persons, with participation by over 70 clergy members."  First United Lutheran and St Francis Lutheran were placed on trial and expelled from the ELCA in 1995. 
In 1999, Pastor Johnson accepted a new call as Pastor of University Lutheran Chapel and as Lutheran Campus Pastor of the University of California, Berkeley.  University Lutheran Chapel received a "letter of censure" from the synod bishop at that time, but no further action has been taken by the ELCA or the regional synod.  Pastor Johnson continues to serve in that call.
First United Lutheran Church of San Francisco has thrived in its ministry to the LGBT population in its community, and continues to maintain informal ties with the ELCA.  Pastor Susan Strouse, the present pastor of First United Lutheran, has advised me in private correspondence that the congregation continued to be part of their ELCA conference and Pastor Jeff Johnson actually served as conference Dean for a period!  Pastor Strouse continues to be ELCA rostered clergy although she is technically "on leave from call" (and not accruing pension benefits?).  She is also rostered with Extraordinary Lutheran Ministries (ELM).  The current bishop has expressed interest in resolving this festering issue, but "much bridge building and healing would have to take place," Pastor Strouse says.
Since then, there have been numerous, additional extra ordinem ordinations:
Donna Simon – October 28, 2000 in Kansas City: Pastor Simon was called by Abiding Peace Lutheran.

Craig Minich – February 18, 2001 in Berkeley: Pastor Minich is called by two Oakland churches and University Lutheran in Berkeley.

Anita C. Hill – April 28, 2001 in St. Paul, Minnesota: Pastor Hill was called to St. Paul-Reformation Lutheran Church in St. Paul, Minnesota.

Sharon Stalkfleet – May 12, 2002 in the Bay Area: Pastor Stalkfleet is called to the East Bay Nursing Home.

Jay Wiesner – July 25, 2004 in Minneapolis, MN: Pastor Wiesner was originally called by Bethany Lutheran Church in Minneapolis; he is now serving University Lutheran Church of the Incarnation in Philadelphia.

Erik Christensen – October 21, 2006 in Chicago: Pastor Christensen was called to St. Luke's of Logan Square.

Megan Rohrer – November 18, 2006 in San Francisco: Pastor Rohrer was called to be the director of the Welcome Ministry with a call from HerChurch; Christ Church; St. Francis and Sts. Mary and Martha in San Francisco.  Rohrer became the first openly transgender person to be ordained in the Lutheran church.

Dawn Roginski – June 16, 2007 in San Francisco: Pastor Roginski was called on March 25, 2007 by St Francis Lutheran Church of San Francisco to serve as its Pastor of Parish Programs.

Jen Rude – November 17, 2007 in Chicago: Pastor Rude was called to Resurrection Lutheran and the Night Ministry in Chicago.

Jen Nagel – January 19, 2008 in Minneapolis: Pastor Nagel was called to Salem Lutheran where she had been serving for four and a half years as a pastoral minister.

Lionel Ketola – May 16, 2008 in Newmarket Ontario: Pastor Ketola was called to Holy Cross where he will serve as associate pastor and Ambassador of Reconcilliation.  Ketola became the first legally married gay man to be ordained in the Lutheran church. Later, the congregaton and the pastors who participated in the ordination were censured by the local bishop, who is investigating whether or not to further discipline the congregation.

Lura Groen – July 26, 2008 in Houston, Texas: Pastor Groen was called to Grace Evangelical Lutheran Church.

Jodi Barry – October 25, 2008 in Minneapolis, MN: Pastor Barry was the first pastor called by Extraordinary Lutheran Ministries to a specialized ministry. Pastor Barry is a Hospital Chaplain.

UPDATE:  Pastor Susan Strouse offers a pair of recent additions to the list:

Jay Wilson – December 6, 2008 in San Francisco:  Pastor Wilson was called to First United Lutheran Church as Minister to the Welcome Ministry.

Steve Keiser – January 25, 2009 in Philadelphia: Pastor Keiser was called to the Lutheran Church of the Holy Communion.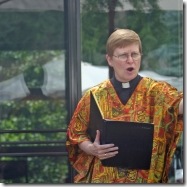 Of these, the ordination of Pastor Anita Hill of St Paul especially drew national attention.  Pastor Hill's synod bishop at the time was Mark Hanson who now serves as the ELCA's Presiding Bishop.  An active bishop of the ELCA, Paul Egertson of The Southwest California Synod, and Rev. Dr. Krister Stendahl, Bishop of the Church of Sweden, participated in the ordination of Pastor Hill.  Pastor Hill's congregation, St Paul-Reformation Lutheran, was censured, admonished, and placed under sanctions by the ELCA.  The sanctions have been now been withdrawn while the censure remains. 
At the 2005 Churchwide Assembly in Orlando, Pastor Hill and around one hundred others protested ELCA LGBT policy by marching to the podium during a plenary session.  Their actions were not well-received.  Upon returning to her church in St Paul, Pastor Hill told the story in her sermon of August 28th, 2005, and she has graciously provided a copy to me.
I saw 100 people wearing rainbows (including 15 St. Paul-Ref members) walking to the front of the plenary hall as the business ground to a halt. As Margaret Schuster said: "There was disapproval raining down on our heads." My heart beat fast and my hands shook. I heard the voice of our presiding bishop asking us to return to the visitor section. I heard the tension in the murmurs and groans of many voting members. It was hard to stand still. Bishop Mark Hanson was my bishop in St. Paul before his election to churchwide office. He has been my shepherd. I know his voice.

But we stood firm in our places.

We risked our reputations, risked losing the respect of the church we've been nurtured in along with our families for generations. We studied non-violence, sought to let our love be genuine, especially toward those we perceived to be against us; searched our hearts for ways to express God's love as we brought our message to the church. Even without voice our message was delivered: no longer can you make decisions about us as though we are an "issue" to be handled by policy and procedure. We are human beings beloved of God, marked with the cross of Christ forever, just like you. As you make decisions, you'll have to look into our eyes and faces, and see that we love God enough to suffer and to persevere in prayer and action.

But we stood firm in our places.

I'm convinced that whether the change we seek comes sooner or later, we must continue to be a congregation that embraces "justice rooted in gospel." I'm ready for the day when I am a pastor known not only for being lesbian, but known for teaching, preaching, and leading in ways that move our community to care for those who are hungry, homeless, or sick, those in need of love and care, the "little ones" of the world. Let our community grow in global awareness and response even as we care for this particular metropolitan area. Let us live well and share well and witness well. Let us confound those who cannot fathom our faithful enterprise.

But we stood firm in our places.
Next week, Thursday, a play will be performed as part of Goodsoil's programming during the ELCA Churchwide Assembly (8:00 pm, August 20, Wesley United Methodist Church, 101 E Grant St, Minneapolis).  The play is entitled Come to the Table and "testifies to the power that a vision of inclusiveness has in the healing and growth of a congregation. Come and be inspired."