Regular readers of this blog may wonder where I've been.  Posts have been nearly non-existent recently.  Some have asked, "Have you lost your muse?"
Au contraire!  I have been churning out page after page, but not for this blog.  Since the first of the year, I have penned a pair of short stories, over sixty pages of a sequel to A Wretched Man, and made a good start on a non-fiction piece that grows out of this blog.  More later.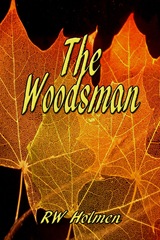 For those of you who have succumbed to the eBook phenomenon, I'm moving that way myself as an author.  Again, more later.  For now, I have published a short story entitled The Woodsman as an eBook (all formats).  From now until the end of the month, readers of this blog may download the eBook free of charge by using a coupon.  Beginning in April, eBook downloads of The Woodsman will carry a slight charge.
Go here, and enter this coupon number: AD29N.  Of course, you may choose to pay for it as a gesture of support.  I have an ulterior motive in making the eBook free for a short time—I would like feedback.  After you download and read, please offer your comments below,  on the book page, and at Amazon; don't forget to click on tags at the bottom of the Amazon page.
This short story is unlike this blog—no religious politics–but I hope there's a bit of creation spirituality.  There's more than a bit of me and my dad in there based on many days spent amongst the oaks and maples of the Burtrum Hills in central Minnesota.