Lubna Hussein is the Sudanese woman who refused UN immunity in order to force a court to try her on charges of violating the strict Islamic dress code by wearing trousers in a public place.  Last week, she appeared in court, defiantly wearing the same outfit, and her trial was postponed until today.  Trial has again been postponed as the judge consults with his superiors.  She faces a flogging of forty lashes if convicted.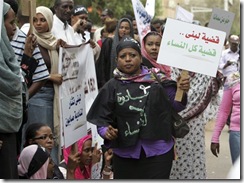 Meanwhile, the Huffington Post reports that pants-wearing supporters outside the courtroom were gassed and beaten by Sudanese police.  
"We are here to protest against this law that oppresses women and debases them," said one of the protesters, Amal Habani, a female columnist for the daily Ajraas Al Hurria, or Bells of Freedom in Arabic.

No injuries were immediately reported but witnesses said police wielding batons beat up one of Hussein's lawyers, Manal Awad Khogali, while keeping media and cameras at bay.