I've been paying a lot of attention to the five, principal mainline Protestant denominations lately (UMC, ELCA, PC(USA), Episcopal, and UCC).  The ELCA is a full communion partner with each of these, and I heard Episcopal Presiding Bishop Katherine Jefforts Schori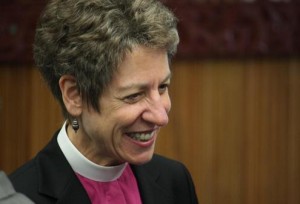 speak highly of the Episcopal/ELCA partnership at an Episcopal Diocesan Convention.
Both the ELCA and the Episcopal Church function with a national presiding bishop, a full-time, long term position.  Bishop Mark Hanson, only the third ELCA Presiding Bishop since the denomination was formed in 1988, is nearing the end of his second term.  Presiding Bishop Schori serves out of the Episcopal Headquarters in NYC though she was previously Bishop of the Nevada Diocese.  She is only the 26th presiding bishop in Episcopal history which goes back to Revolutionary War days.
The UCC has a General Minister/President, the Presbyterians have a General Assembly Moderator, and the Methodists have a President of the Council of Bishops who serves a two year term while continuing to serve as bishop of his or her regional body.

At the upcoming UMC quadrennial General Conference in Tampa, delegates will consider revisions to their organizational structure.  Among the proposed changes is the creation of a full-time President of the Council of Bishops without responsibility for any jurisdiction other than the national church.
Would this position be more like the presiding bishops of the ELCA and Episcopal Churches?  "Commenters have called the proposed position everything from a United Methodist archbishop to the denomination's CEO."