My mind plays with the metaphors of light and dark as I rehash what I saw, heard, and felt yesterday.  This statement, "we sit in the darkness, waiting for light," appeared on a social media post after the UMC General Conference in quick succession voted to retain the oppressive forty-year-old statement, "homosexuality is incompatible with Christian teaching", announced that the afternoon plenary would be a closed session, and turned off the auditorium lights on the gays huddled around the communion altar.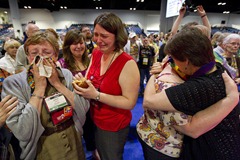 There was an abundance of hurt and harm yesterday–spiritual abuse by the gatekeepers who would create their church in their own image.  So much so that gay leaders asked the bishops to remove remaining resolutions regarding human sexuality from consideration to prevent further abuse.
"I've only seen my partner cry twice, and we've been together a long, long time," said my gay friend.  "He's been fighting this battle for forty years, and he sobbed when he realized it may not happen in his lifetime."
O Lord, how long shall the wicked, how long shall the wicked exult?  They pour out their arrogant words; all the evildoers boast.  They crush your people, O Lord, and afflict your heritage.
When the lights flickered on, God's children were still there at the altar, still singing, still praying. Christians are optimists and none more so than gay Christians, clobbered again and again by their church, they rise again: a people of hope, a people of trust, a people of the resurrection.
What has come into being in him was life, and the life was the light of all people. The light shines in the darkness, and the darkness did not overcome it.
For forty years, the UMC has wandered in the wilderness and still the promised land seems a far distance.  And what of the prophets who have led the struggle but who struggle still?  Will they, like Moses, not cross the Jordan when the day finally arrives?  Perhaps not, yet they have brought a squabbling people to the river's edge.
"You are the light of the world. A city built on a hill cannot be hid.  No one after lighting a lamp puts it under the bushel basket, but on the lampstand, and it gives light to all in the house.  In the same way, let your light shine before others, so that they may see your good works and give glory to your Father in heaven.
There is a season for all things, and yesterday was a day for weeping.  Today, we lift our lights high, and the journey begins anew.