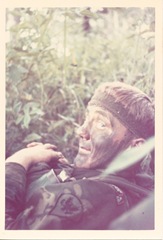 On this Veteran's Day, I'm thinking of my Viet Nam buddies from 1969-70.
The mission of our outfit (K company, Ranger, 75th Infantry) was Long Range Reconnaissance Patrols (LRRP: pronounced lurp).  We worked in four man teams that were flown by helicopter into remote areas and dropped off in the jungle for reconnaissance.  After four or five days, the choppers would return to pick us up.  Because subterfuge was our primary defense, we would be retrieved by the birds ASAP in the event we were exposed.  We played hide and seek well.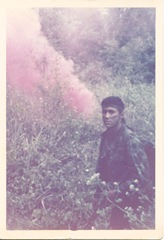 For 5-6 months, I worked with the same three teammates—Mark Estopare, Billy Powers, and Gary Heald—operating as R-18 (Ranger 18 or Romeo 18 according to the  phonetic alphabet).  We were stationed in the central Highlands of Viet Nam, in conjunction with the 4th Infantry Division, and lived in base camps near An Khe, Pleiku, and Ban Me Thuot when we weren't in the field.
Mark was barely 18 and from St. Louis.  I haven't seen him since Viet Nam, but we have spoken by phone a couple of times.  I understand he has had a hard time of it with PTSD.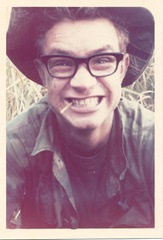 Billy wasn't much older and spoke with a Texas twang.  I saw Billy in Kansas City at a Ranger reunion about three years ago, and the drawl was still there as well as his buoyant humor.  He suffered a back injury from a work accident a few years earlier and was receiving worker's comp.  Still in Texas with grown kids.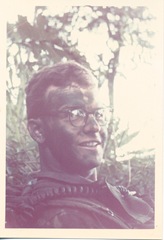 Gary was the oldest at 23 (I was 21).  Gary flew to Minnesota to be one of the groomsmen in my wedding in 1971, I had dinner with him in Los Angeles in 1987, and he was at the same Ranger reunion in KC three years ago.  We stay in touch via email.  Gary grew up in Oklahoma but settled in California.  Remarried with adult kids.
We have animal stories: a rat perched on my shoulder as I pulled midnight guard duty; a tiger silhouetted against the moon as he sauntered along the edge of our night location; and monkeys passing by in the treetops, sounding like the whole God damned North Viet Namese army crashing down on us as we hunkered to the ground, butt muscles tight, and lungs unbreathing.  We have drinking stories, and drugs, too.  Filipino bands singing rock and roll; movie stars and football players snapping photos of us and we of them; the Beatles partying late on the Panasonic bought at the PX; poker players with military script; and personal AO's.  We have stories of searing sun and monsoon rains.  Ponchos.  Poncho liners.  Prick 25s.  Rucksacks.  C4.  Fragmentary grenades.  Smoke grenades.  White phosphorous grenades.  Later, Bronze stars with V devices.  We have flying stories of door gunners and cobra gunships and hot LZs.  We have mountain stories, river stories, hooches under triple-canopy jungle stories, and stories of elephant grass much taller than our head.  In our stories, there are many faces with names long forgotten.  We have shooting stories that come to us in the pale light between wake and sleep, and non-shooting stories, too, of young men from the north passing unknowing in front of our claymores and M16 muzzles, smokin' and ajokin' down the mountain, alive still and so were we.  We became fathers and grandfathers with stories; I think they did, too.
UPDATE: SINCE PENNING THIS POST, I HAVE CREATED A SEPARATE WEBSITE ENTITLED "LRRPS OF VIETNAM", AND I HAVE ALSO PUBLISHED FIVE SHORT STORIES BASED ON MY NAM EXPERIENCE.  THE SHORT STORIES, ENTITLED PROWL ARE AVAILABLE AS AN EBOOK FOR $6.99 OR PAPERBACK FOR $9.95.