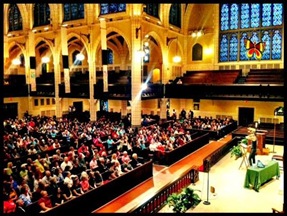 I was one of 500 or so who packed the sanctuary of Central Lutheran in downtown Minneapolis last night to listen to ELCA rock star, Rev. Nadia Bolz-Weber, as part of her whirlwind tour to promote her spiritual memoir, Pastrix.
Rev. Bolz-Weber, a tall, slender, dark-haired, heavily tattooed, "cyber-punk" pastor and a self-described "cranky, post-modern gal of the emerging church a la Luther," rocked this audience, much as she did the 35,000 screaming teens and chaperones at the most recent ELCA youth convention in New Orleans. The irony is that her counter-culture appearance and hip language born of a prior career as a standup comedian (I'm sure last night was the first occasion that "F-bombs" were dropped inside this hallowed sanctuary) is used to convey a decidedly mainstream Christian, especially Lutheran, message (grace and redemption, saint and sinner, death and resurrection).
I first encountered Rev. Bolz-Weber, long before she became famous, about the time I started this blog back in '09, and she had started her own called Sarcastic Lutheran. At that time, I read a story in which her mission church startup to "my people," the House for All Saints and Sinners in Denver, had provided sanctuary to a lesbian teen who had been booted from her own home. Though Bolz-Weber is straight (she talks about her really cool and good-looking husband), she has been an outspoken LGBT ally. In 2011, Pastor Nadia offered the sermon at the California Rite of Reception for seven gay, lesbian, and transgender Lutheran Pastors. One of them, Pastor Ross Merkel, had been defrocked by the ELCA in the early nineties after he came out to his Bay Area congregation, but the congregation kept him in place and a newly-elected synod bishop did not object. Pastor Nadia calls Pastor Merkel her spiritual mentor, and she embraced Lutheranism in his adult-confirmation class after a childhood of spiritual abuse in a fundamentalist, patriarchal, congregation.
Again, an irony. This outsider and pastor to the outsider has been embraced by the ELCA establishment. Though there were youngsters in the audience last night–including a carload of teens from Iowa who tweeted while traveling north on I-35, "We're coming! Don't start on time!"—the audience was mostly middle-aged Lutherans, even elderly, including several hundred clergy from the Twin Cities area.
Before encountering Pastor Merkel and Lutheranism, Pastor Nadia had experienced spiritual healing in AA, where she became sober "by the grace of God and in the fellowship of other recovering alcoholics." I share this journey with Pastor Nadia, and I have given talks entitled, "I learned all I needed to know about grace in AA." She also credits a couple of years of Wiccan involvement for healing the patriarchy-inflicted, gender scars of the church of her youth.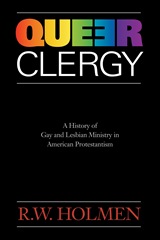 Just released this week, Pastrix is already appearing on best-seller lists. As an author whose own book will be released later this year (Queer Clergy: A History of Gay and Lesbian Ministry in American Protestantism), I must confess to more than a little envy. Maybe I should hire her publicist.