Except for Pat Robertson and his 700 Club rant that suggested the Haitians deserved the hurricane that has devastated their country, the reaction of American religious communities has been swift and supportive, and this includes the ELCA.  Bishop Mark Hanson, who is both the presiding bishop of the ELCA and also the current president of the Lutheran World Federation, reported on Lutheran relief efforts, according to an ELCA press release:
CHICAGO (ELCA) — The Evangelical Lutheran Church in America (ELCA) is responding to the earthquake in Haiti through the Lutheran World Federation (LWF), wrote the Rev. Mark S. Hanson, ELCA presiding bishop, in a Jan. 13 letter to members.  Hanson, who is also president of the LWF, noted that the ELCA has committed substantial funds to support relief efforts, and encouraged members to share information and provide financial gifts.

The Jan. 12 earthquake caused considerable structural damage around the capital city, Port-au-Prince, and may have killed "more than a hundred thousand people," Hanson wrote, quoting Haitian officials. Relief agencies' immediate concerns were for the safety of survivors, plus needs for water, sanitation and communication.

In a brief interview, Hanson told the ELCA News Service that "this is a time for the ELCA to come together as we have so often done in our history."  He said the church has the capacity to respond to human tragedy, and "members are called to bear witness to our faith by responding generously and working with partners" to provide relief.

The presiding bishop asked members to contribute financial gifts to the church's relief efforts. Members can provide gifts online at http://www.ELCA.org/haitiearthquake or call 800-638-3522.

In his written message, Hanson noted that the ELCA already is responding through the LWF's Haiti Program. "Given the devastation caused by this earthquake, the ELCA has committed an initial $250,000 from ELCA International Disaster Response for Haiti and has authorized an additional $500,000 as congregations respond both to the immediate needs and long-term rebuilding efforts," he wrote.
Yet, when I scour the websites, press releases and blogs of Lutheran CORE, Lutheran Congregations in Mission for Christ (LCMC), and the WordAlone network, I see nothing.  I don't infer that their members are uncaring, but organizations built on the negative, built upon being against something, seemingly have a hard time transitioning into the positive.  The reality is their focus is on ELCA bashing, and they do not have the infrastructure to deal with non-political religious matters.  Their whole focus is political and not mission or ministry.
Lutheran CORE spokesman Robert Benne's touted article Why There Must Be New Beginnings itemized ten CORE goals (stated negatively as ELCA criticism, of course), and the one pertaining to foreign mission emphasized conversion of the heathens without mentioning medical, educational, disaster relief, or infrastructure development.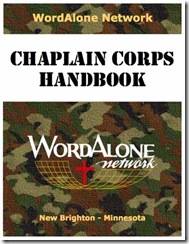 Even when WordAlone announces the formation of a chaplaincy corps, a closer look reveals more ELCA bashing, more political advice, more militancy.
The WordAlone Chaplain Corps is a new (launched January, 2010) program of the WordAlone Network through which pastors and laypersons alike may seek advice and counsel as regards the fallout from the positions taken by the ELCA pursuant to the church-wide assembly of that body held in August, 2009.

[From the booklet back cover] "Therefore take up the whole armor of God, so that you may be able to withstand on that evil day and having done everything to stand firm."  (Ephesians 6:13)
The question needs to be asked: will the CORE financial boycott of the ELCA hinder efforts to help Haiti?  We know what these dissident organizations are against, what are they for?  We know that Lutheran CORE knows how to inflict pain through financial boycott, does CORE know how to heal?
UPDATE:
Pastor Justin Johnson offers his take on the silence out of Lutheran CORE, WordAlone, and LCMC.
The ELCA announced that its initial $250,000 contribution has already been increased to $600,000 based upon "a strong and generous response" from ELCA members.  If the rate of ELCA member giving continues, the ELCA contribution will soon exceed $1 million.
UPDATE TWO:
Please note my recent post  about Lutheran CORE spokesperson, Pastor Erma Wolf, urging financial support of the ELCA, especially for Haiti disaster relief, but perhaps also as a critique of CORE's financial boycott generally.