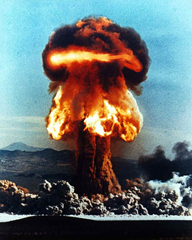 Was it something we said?
In a posting on the WordAlone website dated June 23rd, WordAlone vice president Tom Walker announced an "irrevocable change of direction"—suggesting, of course, that it was the ELCA that has shifted course.  Remember the infamous line "we aren't leaving the ELCA.  The ELCA is the one leaving us."  Well, label it what you will, but Walker, on behalf of WordAlone, announces that they are leaving the ELCA, once and for all.
Walker claims that WordAlone has been the "loyal opposition" for more than a decade.  Wrong.  Disloyal agitators is a better description, and now all pretense is gone.  Walker writes:
For over a decade, WordAlone has assumed the role of the loyal opposition in relationship to the ELCA. We clearly voiced opposition to prevailing trends, but always with the intention of getting the ELCA back on a faithful track with a future.
Here's my interpretation of Walker's comment. 
We kept running our candidates and proposing our resolutions, but we kept losing.  Failing to take over the ELCA, we finally realize that if we want to be in control, we must start our own church.
Just as WordAlone President Jaynan Clark earlier warned ELCA presiding Bishop Mark Hanson that his mortal soul was in danger, Vice President Walker now expands that message to the rest of us … "disassociate with the ELCA," he warns "for the sake of [your] spiritual well being and particularly for the spiritual well being of their children and grandchildren."
Go straight to hell.  Don't pass go.  Is there no end to their narcissistic self-righteousness?
Clark's earlier meltdown focused on the ELCA presiding bishop.  Walker indicts the rest of us.  Our sixty-five synodical bishops are "weak-kneed".  The voting members to the momentous CWA09 "rejected Biblical authority."  And the broad rejection of WordAlone and fellow travelers can only be attributed to "the pervasive apathy of the membership at large".  Or, maybe we're doing mission: teaching Sunday school, quilting, singing in the choir, or one of the thousands of ways the healthy congregations of the ELCA keep on keepin' on.  Failing to jump when WordAlone says "jump" is not a sign of weakness but of the strength of the thousands of ELCA congregations that aren't cowed by the WordAlone propaganda.
See ya'.